SU Commencement speaker wants graduates to 'be the change'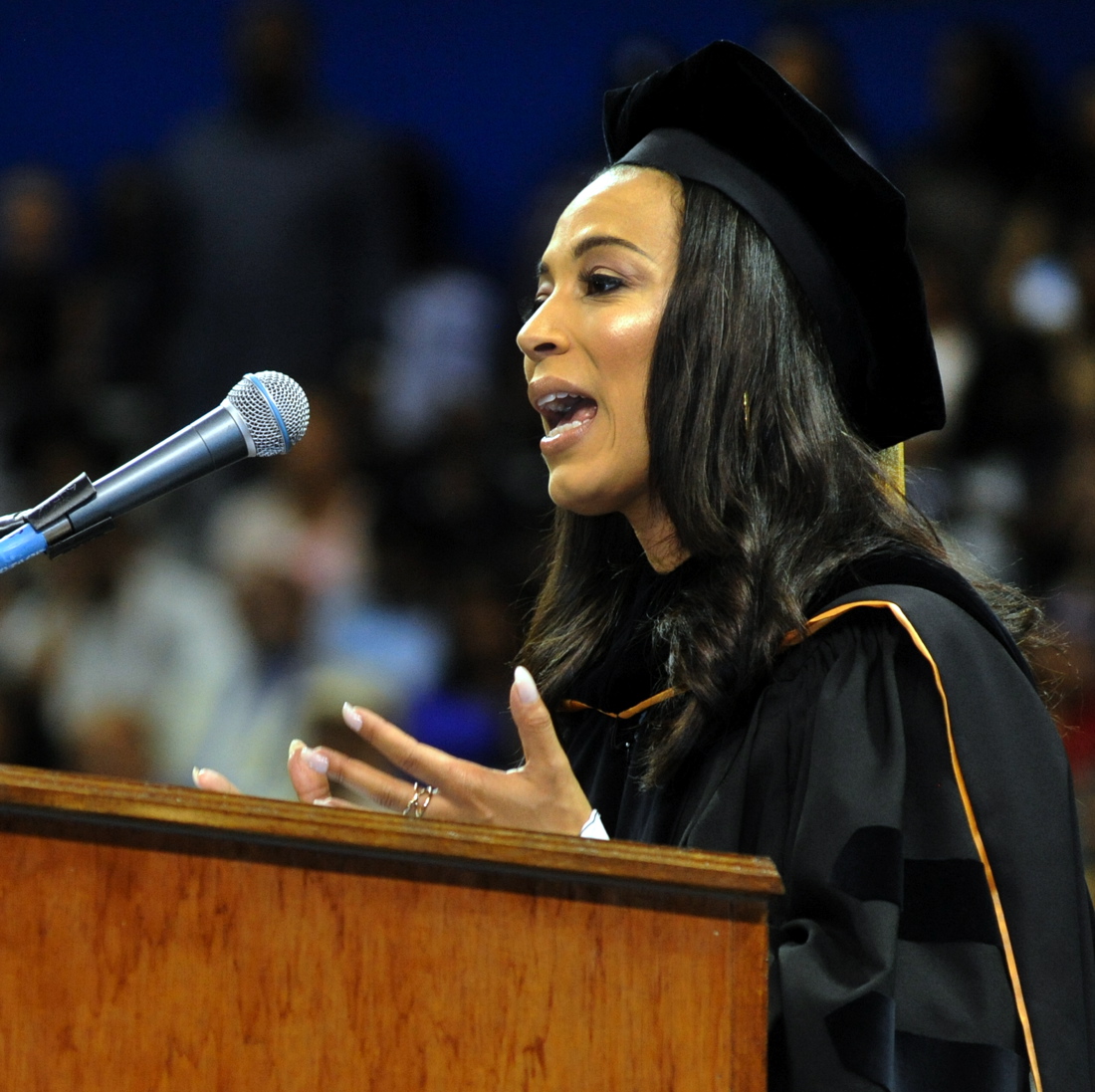 "Will your degree serve you or will you use your degree to serve others."
Angela Rye, political commentator and social activist, was the keynote speaker for the Spring 2018 Commencement Exercises at Southern University, Friday, May 11, in the F.G. Clark Activity Center.
More than 650 candidates, including spring and summer graduates, received degrees.
"My responsibility to you today is Truth," said Rye, who can be seen regularly on several media outlets including BET, CNN, NBC, HBO, ABC, MSNBC, and TV One. "My responsibility to you today is ensuring you are adequately equipped to survive in a 2018 America. And in the America we create together for the future."
The political strategist went on to convey that she had a message for the graduates. Her message was to "wake them up" before they become bogged down by society's obstacles.
"We cannot keep talking about the problems, and not playing our respective parts to change them."
"Be the change. Be courageous. Be bold, like your lives, our lives, depend on it because they do."
"Create the community you know we can be. Create the country you deserve to see. Create the world in which you want to live."
With smiling faces and teary eyes, the candidates soaked up their final moments. As names were called, family and friends burst into excitement with screams, laughter, and sentiments.
The ceremony was presided by Ray L. Belton, president-chancellor of the Southern University System, and James Ammons, executive vice president/executive vice chancellor.
The spring 2018 chief student marshal was Chicago native, Kayla Clancy. She graduated with a degree in psychology and a 3.862 cumulative grade point average.
Through her strong support system, she has been pushed outside of her comfort zone in order to accomplish great things, especially being chosen chief student marshal for the commencement. The top grad plans on attending Louisiana State University to work towards a master of education in clinical mental health counseling.
The SUBR spring graduating class includes 419 undergraduate candidates and 198 graduate candidates. The class has 137 honor graduates, (one summa cum laude, eight magna cum laude, 27 cum laude, and 101 honorable mention).
Along with the class, the university commissioned three Army and three Navy officers.
The Golden Class of 1968 was celebrated and donned gold robes. Over 30 members represented the class and were ecstatic to be included in this momentous occasion.
The University awarded doctor of humane letters to Attorney Johnnie A. Jones, Sr.