Cable TV
Cable TV
Cable TV is available in all Southern University dorm rooms and dorm lobby areas. Southern receives its signal from the local cable TV provider, Cox Communications, and distributes the signal to the dorms via fiber. Three channels are dedicated to campus programming for instruction and service.
SU Cable Channel Lineup
GUIDELINES for CABLE TV SERVICE
Rules and Regulations
Students are required to return all network equipment. If not returned at the end of the semester, students will be responsible monetarily.
If any Cable is lost, stolen, or damaged, it should be reported to the dorm director immediately.
All Cable problems should be reported to the dorm director immediately.
Students are required to use a cable splitter to share cable from the wall jack. (splitters will be supplied upon request)
Students are not permitted to route cable across floor and doorways. Students may run cable along wall only.
Students do not have to provide any cable equipment. One cable jumper will be issued to each student, also all cable equipment must be returned at the end of the semester.
Instructions Cable Ready TV
If your set is cable-ready with a CATV post connection on the back, screw the cable directly to it even if the set is VHF/UHF connections. Some sets that have both also have a switch near the post, which must be set to CATV. On newer models, use the on-screen display menu to switch to CATV mode. If the display has AUTO PROGRAMMING, set it also.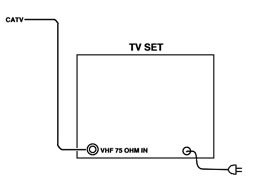 Instructions for non Cable Ready TV
If your TV is not cable-ready and only has VHF and UHF screws, detach any "rabbit ears" or external antenna, screw a "pigtail" transformer under the VHF screws and connect a cable jumper. You will only receive 2-13 unless you use a VCR or analog converter(If a transformer is needed please contact your director) To use a VCR, connect the patch cable from the cable jack to the "antenna in" of "VHF in" post. Connect a short patch cable from the "TV out" post to the TV post of "pigtail" and set the VCR channel switch (on back of the VCR) to channel 3 or 4. A cable-ready VCR will enable a non-cable-ready TV to receive all channels.

Once everything is properly wired and plugged in, the TV must be setup for cable TV reception. This is usually done with a switch on the back of the TV, through a button on the TV or remote, or through on-screen programming. Different brands use different wording. You want to look for cable, Standard, STD, HRC, IRC, Air, or Antenna. If you see one of these words, you want to make sure your TV is not on Air or Antenna, but on Cable or Standard (STD). Once your TV is setup for cable reception, you should auto-program your TV. This will program all the channels for your TV. If you are using a VCR, it should be setup in a similar fashion. The TV should be set to channel 3 or 4 to interface with your VCR of cable converter properly. Please refer to your owner's manual of your TV, VCR, or cable converter on how to do this.
What if I have problems with my Cable TV Signal?
1.Follow all instructions in owner's manual.
2. Make sure all cables are connected properly.
3.Make sure TV is set to CATV via manual switch or on-screen display.
4.If these efforts do not solve the problem please contact your Dorm Director.