Founders' Day Convocation Speaker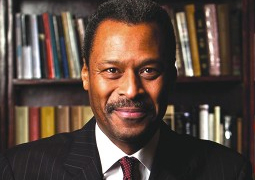 John Silvanus Wilson Jr.
In October 2021, John Silvanus Wilson Jr. became the executive director of the Millennium Leadership Initiative, an established leadership development program under the American Association of State Colleges and Universities.
From August 2017 to October 2021, Wilson served at Harvard University, first as a president in residence at the Harvard Graduate School of Education; then, as the senior adviser and strategist to the president of Harvard, where he guided the university's launch of a new effort at equity, inclusion, and belonging. His final year there was spent as a visiting scholar at the Harvard Business School, where he completed a book on the future of higher education with an emphasis on Historically Black Colleges and Universities, which is slated for publication in spring 2023.
In the nine years prior to arriving at Harvard, Wilson served in the first term under President Barack Obama as the executive director of the White House Initiative on Historically Black Colleges and Universities. He then served with distinction as the 11th president of Morehouse College, his alma mater.
Between 2001 and 2009, Wilson was as an associate professor and executive dean at George Washington University. In 1985, he began his career with a 16-year stay at the Michigan Institute of Technology (MIT), mostly as a senior fundraising official in two major capital campaigns.
Wilson received a Bachelor of Arts degree from Morehouse and a Master of Theology degree from Harvard, where he also earned master's and doctoral degrees in administration and planning and social policy.
Wilson has won numerous awards and has served on several trustee boards, including Harvard and Spelman College. He is married to Carol Espy-Wilson, an engineering professor and entrepreneur at the University of Maryland, College Park. They are the proud parents of three adult children.