Louisiana historically black universities host inaugural 'HBCU Day at the Capitol'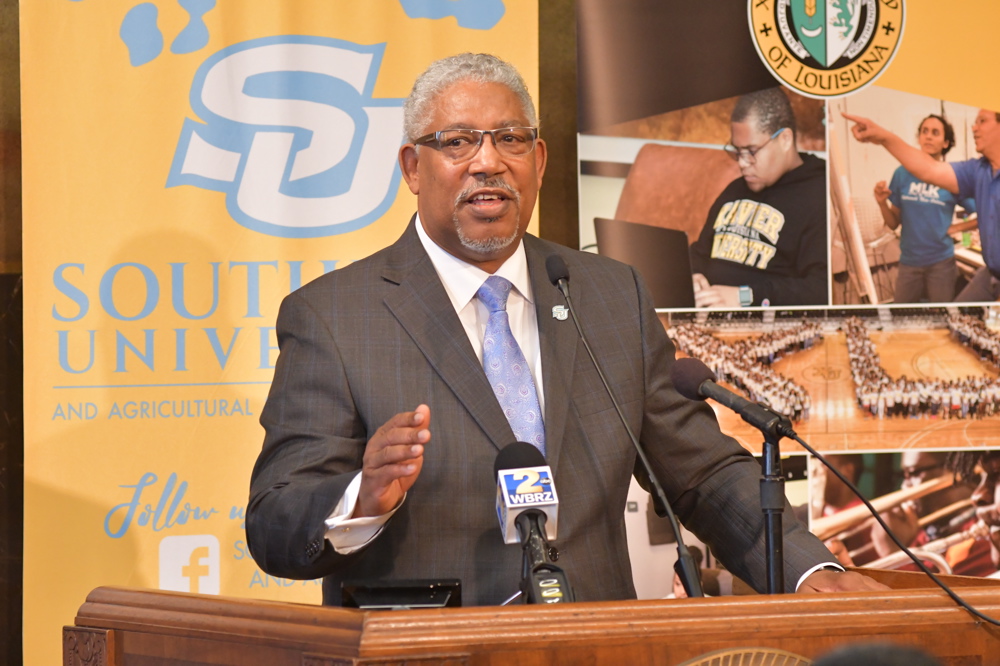 The Southern University System's five campuses, along with Dillard University, Grambling State University, Xavier University and the HBCU Advisory Council, came together to host "HBCU Day at the Capitol" on Wednesday. The institutions gathered at the Louisiana State Capitol in solidarity of HBCU unity.
"Where would anyone be without our HBCUs?" asked state Rep. Patrick Jefferson, a Dillard alumnus. "We are signaling to the state of Louisiana that this is only the beginning."
Each institution surrounded the rotunda with table displays showcasing their recent accomplishments and garnered attention from lawmakers and frequent visitors. To start the day, the group held a joint press conference to welcome students, alumni, and guests. The respective university leadership provided remarks on the occasion and brief updates on their campuses.
"These institutions that have been instrumental in shaping the middle class of America," said Ray L. Belton, president-chancellor of the Southern University System and Southern alumnus. "All of our institutions know that we can't be everything to everybody. However, we need to ensure that our students not only get a degree but that they have the sustainability upon graduation to be productive as they navigate through the global workforce."
The Southern University System is the only HBCU system in the nation. It is comprised of Southern University Baton Rouge, Southern University at New Orleans, Southern University Shreveport, Southern University Law Center and Southern University Agricultural Research and Extension Center.
HBCU Day at the Capitol was lauded at the first event of its kind in the state. The HBCU Advisory Council, formed by Sen. Wesley Bishop by way of Act No. 236, rallied together to make this idea a reality. The Council is made up of representatives of each HBCU, workforce and development organizations and governing bodies across the state.
"We have some of the finest academic minds leading the country right here at our HBCUs," said Bishop, a Southern University at New Orleans alumnus.
The event continued with an "HBCUnique" pep rally featuring the pep bands from Southern University and Grambling State University, cheerleaders, and a step show by the student organizations. In addition, the student leaders from each university offered words of encouragement and shared their stories on why they chose to attend their HBCU.
To wrap up the day, the HBCU Advisory Council held its regular meeting to discuss strategies and initiatives to press forward the missions of their institutions and how they can continue impacting the community.
To view photos from the event, please visit http://bit.ly/2W9i2BY.