Encouraging support system leads Chicago native to become SU top grad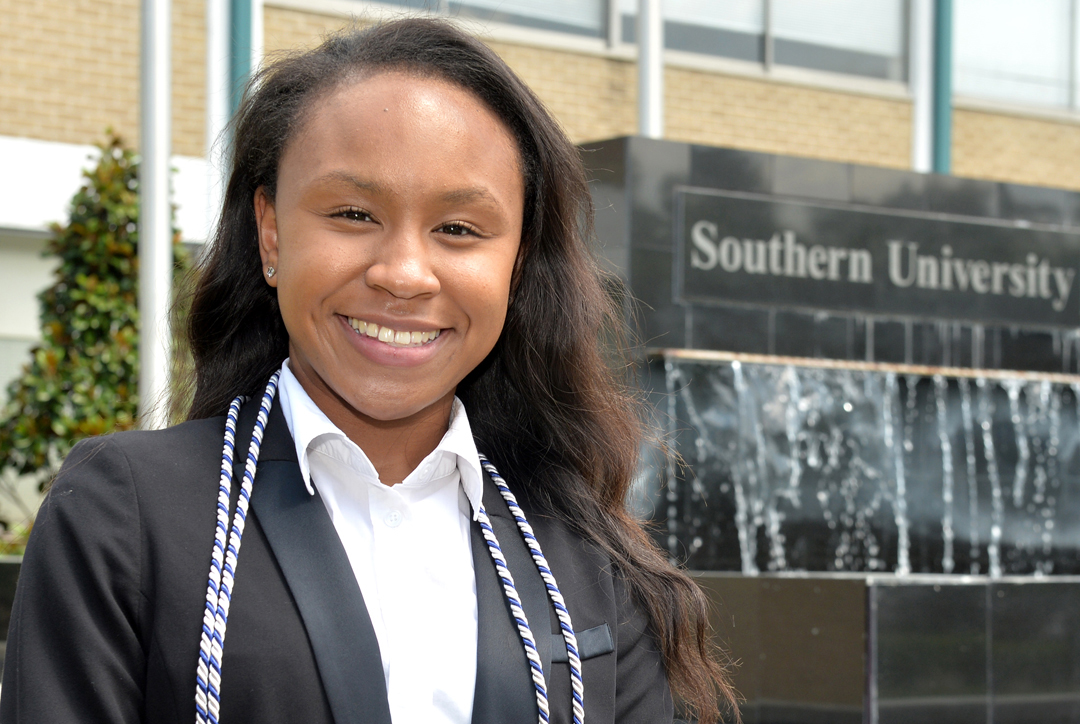 "Hard-working" and "high-achieving" are adjectives that are not new to Kayla Clancy. Through her strong support system, she has been pushed outside of her comfort zone in order to accomplish great things, especially being chosen chief student marshal for the 2018 Southern University Spring Commencement.
"Honestly, I don't know where I'd be without my support system. My mother has been my backbone through it all," says the psychology major who will lead more than 700 grads during spring commencement, May 11, in the F.G. Clark Activity Center. "Since losing my father at the age of nine, my mother was all that I had and she has truly been everything to me and more."
Clancy's support team not only included her family, but mentors that made sure that she was headed for greatness. When choosing her next steps, Grambling State University was top on her list until a mentor, Frances Thibodeaux-Fox, told her to keep her options open and continue to
research Southern University. Through constant communications with SU admissions representatives and being awarded a scholarship through the SU Alumni Federation Chicago Chapter, she chose to continue her next steps at Southern University in the fall of 2014.
After coming to Baton Rouge, Clancy made herself at home and found support within friends and professors, such Reginald Rackley, a Southern University psychology professor, and Mark Gaines, a personal friend. They pushed her "outside of [her] comfort zones showing [her] that being uncomfortable promotes true growth."
This advice proved true for the top grad as she devoted herself to her studies and involving herself in extracurricular activities. She held various offices within Psi Chi: International Honor Society in Psychology, Collegiate 100 Black Women of Southern University, and the Beta Psi Chapter of Alpha Kappa Alpha Sorority, Incorporated. To prepare her for her future career, she participated as a research assistant in a National Institute on Drug Abuse (NIDA) funded research internship at University of Chicago during the summer of 2017.
Looking back on her college journey, she is proud of the woman she has become. Being chosen as the chief student marshal was an accomplishment that was unexpected.
"More than anything, I am truly honored. I didn't think that I would be granted this opportunity, but I'm blessed to say that I am here," she said. "I owe this to God because without him I am nothing and would not be here. I tell my little sisters all the time that everything I do is for them because I want them to see that the sky is the limit. So, for me, this large achievement is, also, for my little sisters," says Clancy.

As she prepares for her final exit, she feels her future is full of bright possibilities. In the fall, Clancy will be attending Louisiana State University to work towards a master of education in clinical mental health counseling. Also, to honor her father's memory and assist students with having higher education resources, she has decided to start a scholarship in his name at his alma mater in Chicago.