Southern University College of Business, Law Center to host virtual leadership course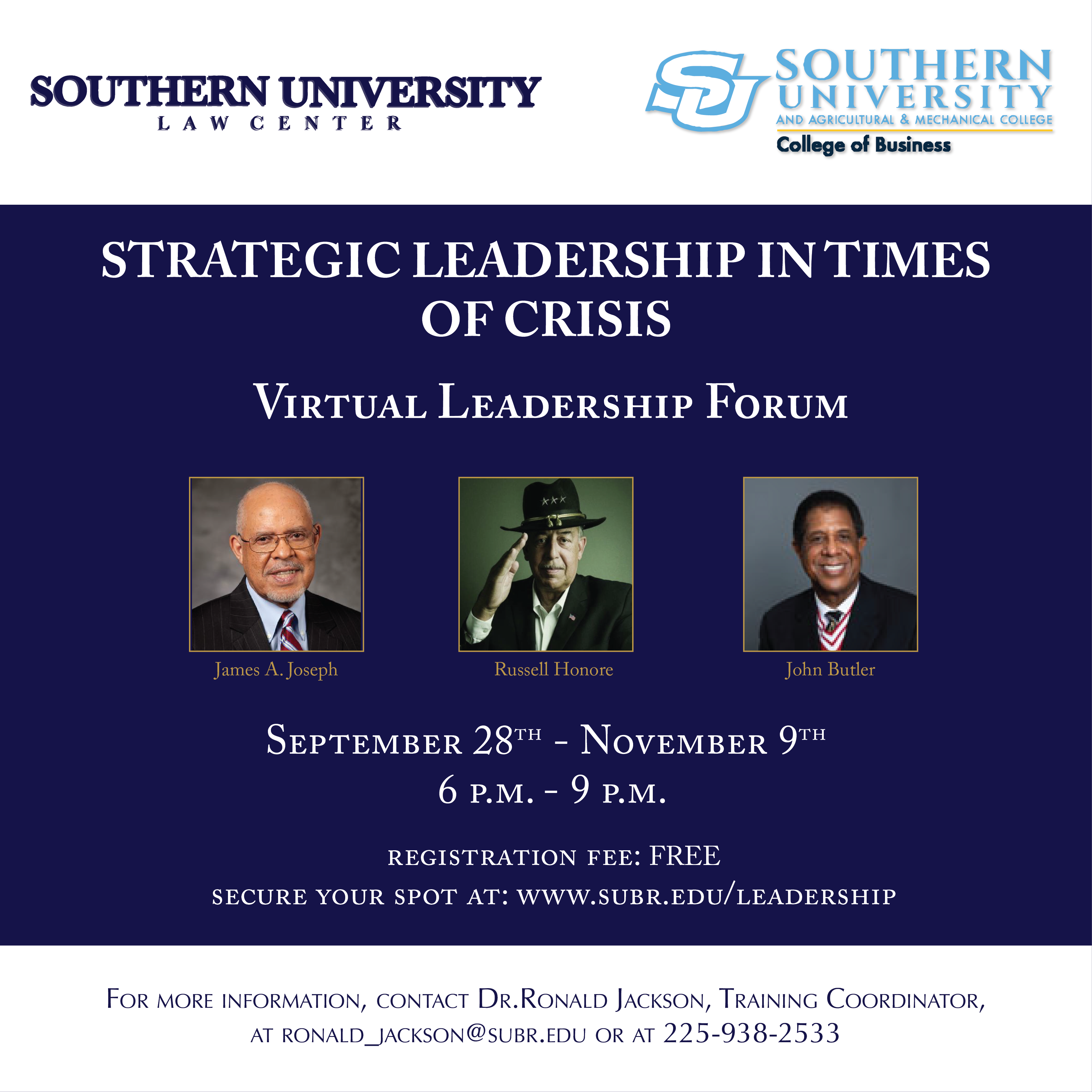 The Southern University-Baton Rouge College of Business and the Southern University Law Center are jointly launching a virtual leadership training program entitled "Strategic Leadership in Times of Crisis" scheduled to take place from September 28 to November 9.
"For any organization public or private to be successful, it requires effective leadership which can only be delivered by qualified and farsighted leaders" said Donald R. Andrews, dean of the Southern University-Baton Rouge College of Business. "The strategic leadership short course training program is designed to give individuals a convenient way to advance their leadership skills and improve their competitiveness in the changing world."
During the seven-week virtual course, participants will have an unique opportunity to gain immense knowledge and skills on leadership in times of crisis. The course will be taught by thought leaders on leadership issues including James A. Joseph, former United States Ambassador to South Africa and author; Russel Honore´, retired United States Army lieutenant general and author; John Butler, professor at the University of Texas at Austin and author; and Ronald Jackson, professor at Southern University-Baton Rouge.
"In today's rapidly changing, uncertain and turbulent times, leadership plays the most vital role in the achievement of organizational and institutional mission and vision" said John Pierre, chancellor of the Southern University Law Center. "It is imperative to train and guide professionals on crisis management in preparation for critical disasters and confrontations."
Outcomes for the course are to develop leadership skills with a focus on crisis situations; teach participants how to engage partners enterprise-wide to leverage cross-functional capabilities in response efforts; to stimulate innovative thinking in challenging times; and to ensure an organization's resiliency.
The course will be offered each Monday via Zoom from 6:00 p.m. to 9:00 p.m. CST in a synchronous learning environment. Registration for the course is free and open to the general public. Registration includes access to the course and a completion certificate. Scholarships are available upon request. Individuals who hold leadership positions in the state and local governments, business community, nonprofit organizations, educational institutions, and trade associations are highly encouraged to participate in the training program.
For more information or to register, visit www.subr.edu/leadership or contact Ronald Jackson at ronald_jackson@subr.edu or 225-938-2533.