Spring 2021 Chief Student Marshal Amber Murphy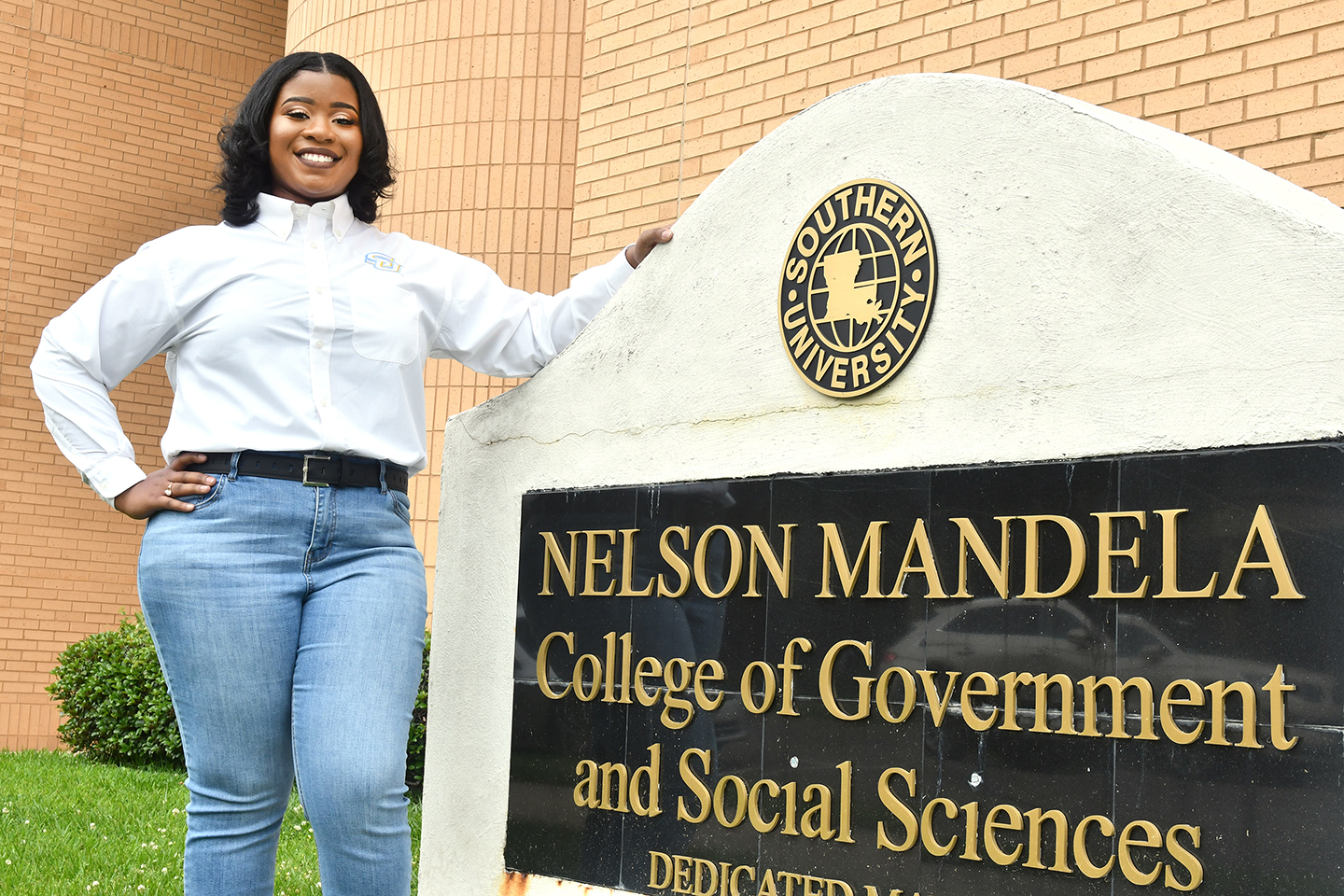 College is about new experiences and different surroundings. Attending an HBCU is an opportunity some people never get to see. With the help of both her parents, her siblings, and her trust in God, Amber Murphy conquered not only remaining at the top of her class but being named a Spring 2021 chief student marshal with a 4.0 GPA.
"I feel very humble and blessed," said Murphy, a native of Port Allen, Louisiana and graduate of Port Allen High School. "This is something that I've always wanted since I came to Southern. When I saw the student chief marshal at my sister's graduation, I said that would be me when I graduate, and here I am."
As Murphy prepares to turn the tassel, she is also preparing for the next chapter in her educational journey. After graduation, Murphy plans to work as a mental health specialist at Brightside Clinic, and will continue her education in graduate school to obtain her Ph.D. Her long-term plans are to become a psychologist and to open her own private practice.
Before she departs the Bluff, Murphy would like to pass along some advice to anyone who would like to attend college: "To all students, I want you to know that YOU CAN DO IT.'Can't' should not be in your vocabulary. There will be obstacles in life, but if you continue to push and stay consistent, you will be successful. Remain focused on accomplishing your goals. Always believe that you can achieve your dreams and you are the only person that can stop your progress. Your past does not define your future. Even when you make mistakes, believe in who you are and who you were created to become."
Achievements and Campus Involvement
Dean's List (2018 – 2021)
Dolores Margaret Richard Spikes Honors College Student
Honors Student Association (Secretary 2018-2019, 2nd Vice President 2020-2021)
Psi Chi International Honor Society in Psychology member
Psychology Club member
Stat Phi Stat member and tutor
Center for Student Success peer tutor
Volunteers in Public Schools tutor for East Baton Rouge Parish School System
Scholarships
Z. Young Memorial Endowed Scholarship
Winford Roan, Jr. Memorial Endowed Scholarship
Links Incorporated Scholarship
Attorney Tony Clayton Southern University Board of Supervisors Scholarship
Honors College Scholarship
20 for 20 Scholarship
TOPS Scholarship
Thurgood Marshall College Fund (TMCF) COVID-19 Scholarship
Elvin A. Sterling Jr. Scholarship
Internship Highlights
Spring 2021 Internship at Brightside Clinic in Denham Springs, Louisiana