Spring 2021 Chief Student Marshal Kelsey Perine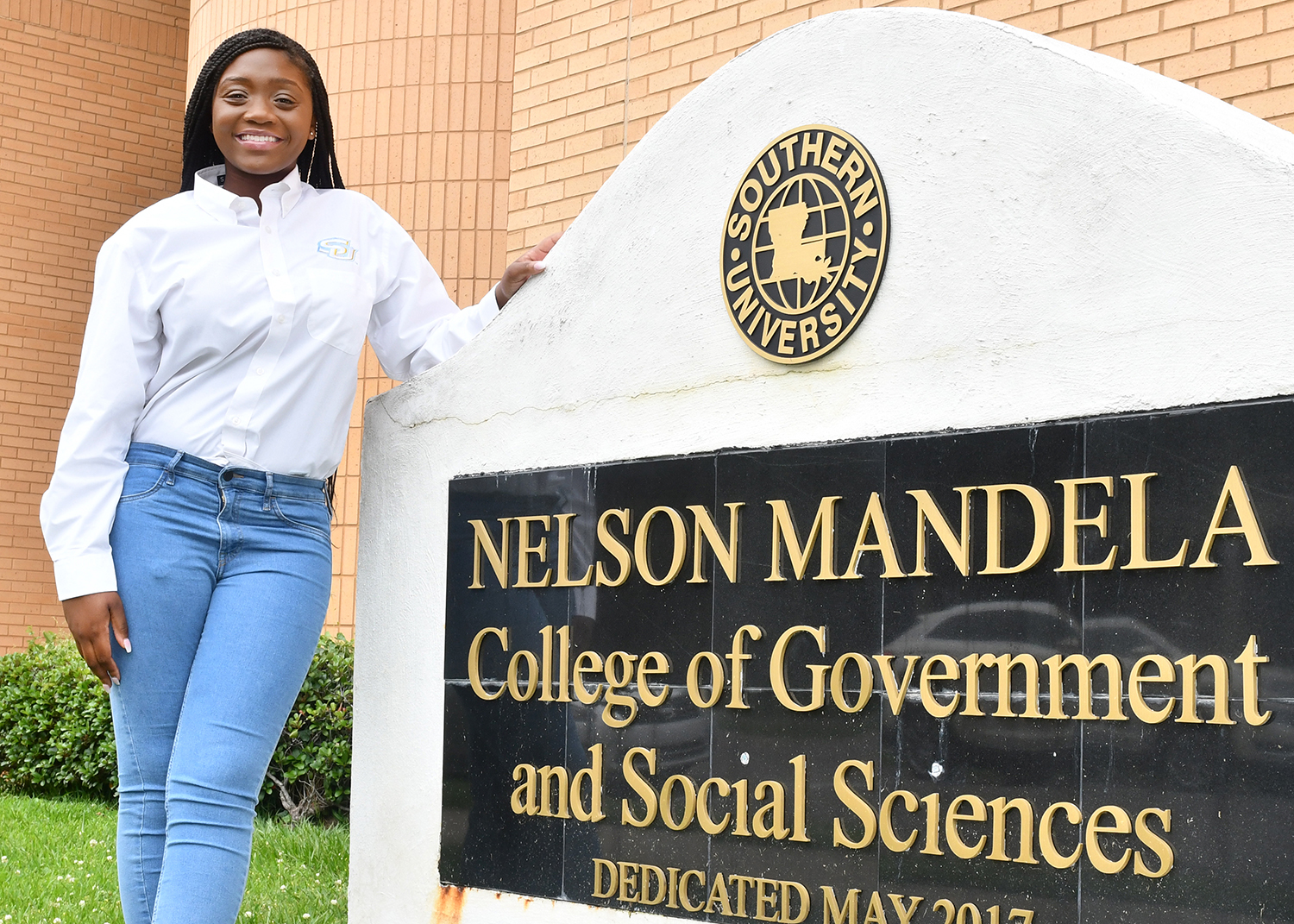 Mental health and physical capabilities are often tested during the college experience. While Kelsey Perine, a 22-year-old political science major, can attest to this, she can also attest to overcoming challenges to come out it all on top as a Spring 2021 chief student marshal.
"It feels like a dream come true," said Perine, a native of Mobile, Alabama, and graduate of Baker High School. "I remember my mentor, Shantae Harvey, telling me about student marshals my freshman year. It became a goal of mine then. To say I did that and to share this honor with another amazing Black woman is so exciting. I am truly grateful."
With the help of her advisers, Perine finished her last year of undergrad with a 4.0 GPA. Perine's favorite quote, "Greatness is not measured by what a man or woman accomplishes, but by the opposition he or she has overcome to reach his goals," helped her get through the years at Southern University.
Perine's next chapter of her life will consist of attending law school in the fall. Upon graduating law school, she hopes to clerk in the United States Supreme Court then become a staff attorney and policy counsel for a civil rights organization.
Before she departs the Bluff, Perine would like to pass along some advice to anyone who would like to attend college: "While cliché, I would tell other students that anything is possible when you are willing to do whatever is possible to get it done. Whatever you desire to do on campus and beyond… never hesitate, go for it."
Campus Involvement and Achievements
Dean's List all semesters
Served in Student Government Association all four years, including serving as Junior Class President and Chief Justice
Southern University NAACP Chapter President, 2018-2021
Fall 2018 Inductee of Collegiate 100 Black Women of Southern University
Spring 2021 Inductee of Xi Mu Chapter of Pi Sigma Alpha National Political Science Honor Society
Student Organization Council
Assisted with the 2019 #SUVotes campaign that got out over 500 students to the polls
Association for Women Students' 2021 Woman of Change
Miss Hidden Figure award at the Southern University Student Choice Awards
Internships/Employment Highlights
Special Projects Intern with Mayor's Y.E.S. Program
Southern University System Foundation
Law firm legal assistant
2019 SPPARK pre-law program with the University of Arkansas School of Law

Won the Emerging Leader and Best Oralist awards