SUBR professor and dean receives research grant from the U.S. Department of Energy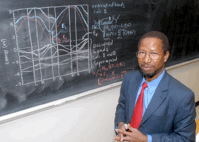 Diola Bagayoko, Southern University System distinguished professor of physics and dean of the DMR Spikes Honors College, recently received a research grant from the United States Department of Energy (DOE), National Nuclear Security Administration (NNSA). The grant amounts to $295,635 for one year, 2017-18.
"This significant funding provides financial support for more than 10 graduate and undergraduate students in STEM and enables our pre-college outreach activities," says Bagayoko. "In addition to this significant STEM workforce development, this funding supports our frontier research to address the materials and energy security of this country."
This project is a part of the work of the Consortium for Materials and Energy Studies (CMaES), led by Florida A&M University (FAMU). Southern University and A&M College (SUBR), six other HBCUs, and two national laboratories, Lawrence Livermore National Lab (LLNL) and Los Alamos National Lab (LANL), are members of this consortium.
Two key priority areas of CMaES are the training of students in science, technology, engineering and mathematics (STEM) and the performance of frontier research on materials and energy, for the security of this country. The SUBR project already made a breakthrough in correctly describing and predicting, computationally, electronic and related properties of numerous semiconductors, some of which have applications in the solar energy industry.
Anthony Stewart, SU physics professor, will assist Bagayoko with the experimental fuel cell research that is a part of the project, and work in the SU Electrochemistry and Energy Research Laboratory (EERL), built with previous funds from a previous DOE/NNSA grant. He also will assist in the supervision of undergraduate students to be involved in research.
Support staff members that are instrumental in the implementation of the summer academic enrichment and research participation component for high school students are Brenda McNeely, LaShounda Franklin, and Chandler Modica.
For more details on this project, please contact Bagayoko at (225) 771-2730 (office).