Joint Greek Council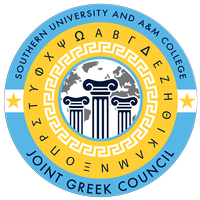 Joint Greek Council
Southern University and A&M College is home to a vibrant, yet robust Greek community. Greek-letter organizations are a gateway to forming life-long friendships, building a network, and engaging in leadership experiences. Fraternities and Sororities help cultivate campus culture while creating support systems for students who join. Through various activities, ranging from social to community, our Greeks are constantly looking for ways to contribute to our campus here at SUBR. For more information, please contact the Office of Student Leadership and Engagement.
The Joint Greek Council is the peer governing body of Fraternity and Sorority Life. The primary function is to administer all business related to the overall welfare of Fraternities and Sororities at Southern University and to compile rules governing the Council.
The objective of the Joint Greek Council is to develop and maintain inter-fraternal relations at a high level of accomplishment in fraternity and sorority life and in doing so:
Consider the goals and ideals of Chapter and Colony membership as continuously applicable to campus and personal life.
Further intellectual accomplishment and scholarship of the fraternal organizations and their members.
Cooperate with member fraternities and sororities and the University Administration in concern for and maintenance of high social and moral standards.
Provide a medium for the exercise of self-government of the member organizations.
Ensure compliance with the Joint Greek Council constitution, its Bylaws, rules and regulations, and regulations of the University.