Dr. Kinesha Harris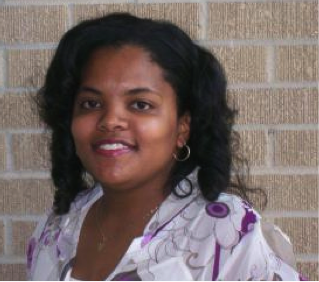 Kinesha Harris
Assistant Professor of Chemistry
Bachelor's Degree: Southern University, 1999
Ph.D.: University of Iowa, 2006
Bio-Inorganic/Biochemistry
Office: 118B Lee Hall
Phone: 225-771-4952
E-mail Address: kinesha_harris@subr.edu
Web Page Links:
Research Interests: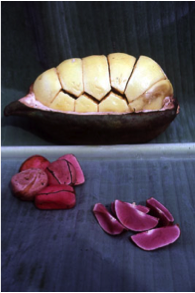 Our research group is interested in the use of natural products as therapeutic agents. We are trying to understand howvaroius natural products function in terms of the chemical compounds that are present in th medicinally relevant components of the plant products. We are currently focused on the "cure-all" plant Cola acuminata.
Cola acuminata or Bizzy nut is a bitter, caffeine-containing nut found in the rainforests of Africa. It is used as a stimulant, an appetite suppressant, an aphrodisiac, to restore vitality and to ease hunger pains. In Jamaica, Bizzy nuts are grated and made into a tea by the ETTU people. The Bizzy nut has garnered a reputation as a remedy for a plethora of illnesses and diseases including asthma, menstrual cramps, headache, gout and diabetes, as well as a form of birth control. Due to the direct or indirect hormonal dependence of several of the diseases and illnesses affected by the Bizzy nut, it is believed that the medicinal effects may be a result of the estrogenic and androgenic properties of non-steroidal estrogenic chemicals (phytoestrogens) found in the Bizzy nut.
We have previously confirmed that Bizzy exhibits steroid-like activity. In order to gain more insight into the mode of action of the Bizzy nut and to identify its medicinally active compounds, we have developed a high throughput HPLC screening method. A sample of dried Bizzy nut was ground and then subjected to a series of organic extractions. One of the extracts was then selected and further separated using reversed-phase HPLC analysis. This procedure has resulted in optimal separation and recovery of several chromatographic peaks.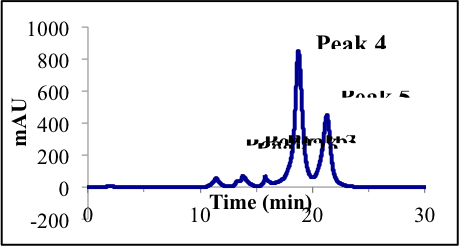 In vitro bioassays, monitoring cytotoxicity and gene expression, have been performed on the crude extract and the HPLC fractions, resulting in interesting and unique results for each fraction. UV-Vis Shift assays are currently being performed and the results will be used along with those of MALDI mass spectrometry and NMR experiments to determine the identity of the chemical compounds present in the extract and individual fractions.
Awards and Honors:
Visiting Faculty Researcher, Department of Mechanical and Aerospace Engineering, Princeton University, Princeton, NJ, QEM HBCU-UP Leadership Development Institute 2010.
2008 Southern University NSF HBCU-UP STEM Hall of Fame, SUBR STEM Alumni-Young Faculty
Selected Publications:
Naragoni, Srivatcha, Sankella, Shireesha, Harris, Kinesha, and Gray, Wesley. "Phytoestrogens Regulate mRNA and Protein Levels of Guanine Nucleotide-Binding Protein, Beta-1 Subunit (GNB1) in MCF-7 Cells." Journal of Cellular Physiology. 2009, 219(3), 584-594.
Solipuram, Rajasree, Koppula, Sowmya, Hurst, Angela, Harris, Kinesha, Naragoni, Srivatcha, Fontenot, Krystal and Gray, Wesley. "Molecular and Biochemical Effects of a Kola Nut Extract on Androgen Receptor-Mediated Pathways." Journal of Toxicology. 2008, 2009(2009), 1-16.