Southern's Doze Butler honored for her volunteerism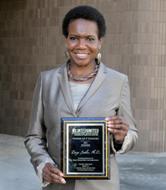 Southern's Doze Butler honored for her volunteerism
Southern University's Doze Butler was honored Thursday for her volunteerism efforts in the Baton Rouge community
Butler was one of Capital Area United Way/Volunteer United's 2011 "Power of 9" honorees at a luncheon held at Boudreaux's restaurant hosted by Capital One Bank and WAFB-TV Ch. 9.
Butler, interim dean of the College of Agricultural, Family and Consumer Sciences, was recognized for her work with Habitat for Humanity where she also serves on Habitat's board of directors. Each semester she teaches her students about the power of giving back by bringing them to a Habitat house construction site.
The students earn extra credit for working at the site and writing about their experience.
Lynn Clark, the person who nominated Butler, said "Doze's continued support of Habitat is changing lives. Her passion and commitment are providing a better future for generations."