Southern's Trivedi to receive AAUP academic freedom award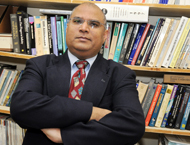 SU Faculty Senate President Sudhir Kumar Trivedi, PhD, has been selected to receive the American Association of University Professors' J. Thomas Hemrick Award for his "contributions of academic freedom."
Over the past year, Trivedi has been an outspoken opponent of the University's declaration of financial emergency, along with faculty layoffs and other faculty versus administration issues.
The award is named in honor of the late J. Thomas Hamrick. He was a professor in the Tulane School of Community Health and Tropical medicine. During AAUP's investigation of the post-Katrina events at Tulane which led to its administration being censured, Dr. Hamrick worked tirelessly in the service of the investigation.
In a statement, Trivedi said, ""This honor truly belongs to the faculty of SUBR and is a clear acknowledgment of its heroic fight to achieve justice and equity in all matters. I will continue to fight for the welfare and interests of SUBR faculty."
 "I, on behalf of the faculty of SUBR, will be honored to accept and receive J. Thomas Hamrick award for exemplary faculty efforts on behalf of academic freedom," he said.  "I am pleased that the Louisiana AAUP Conference considered a non-AAUP member for this award."
Trivedi, a professor of Computer Science, will be presented the award at the AAUP's annual State Conference on April 14 at Tulane.
The award is accompanied by a monetary donation to support chapter development at the recipient's campus AAUP chapter.