Two chief student marshals lead the way for nearly 600 spring graduates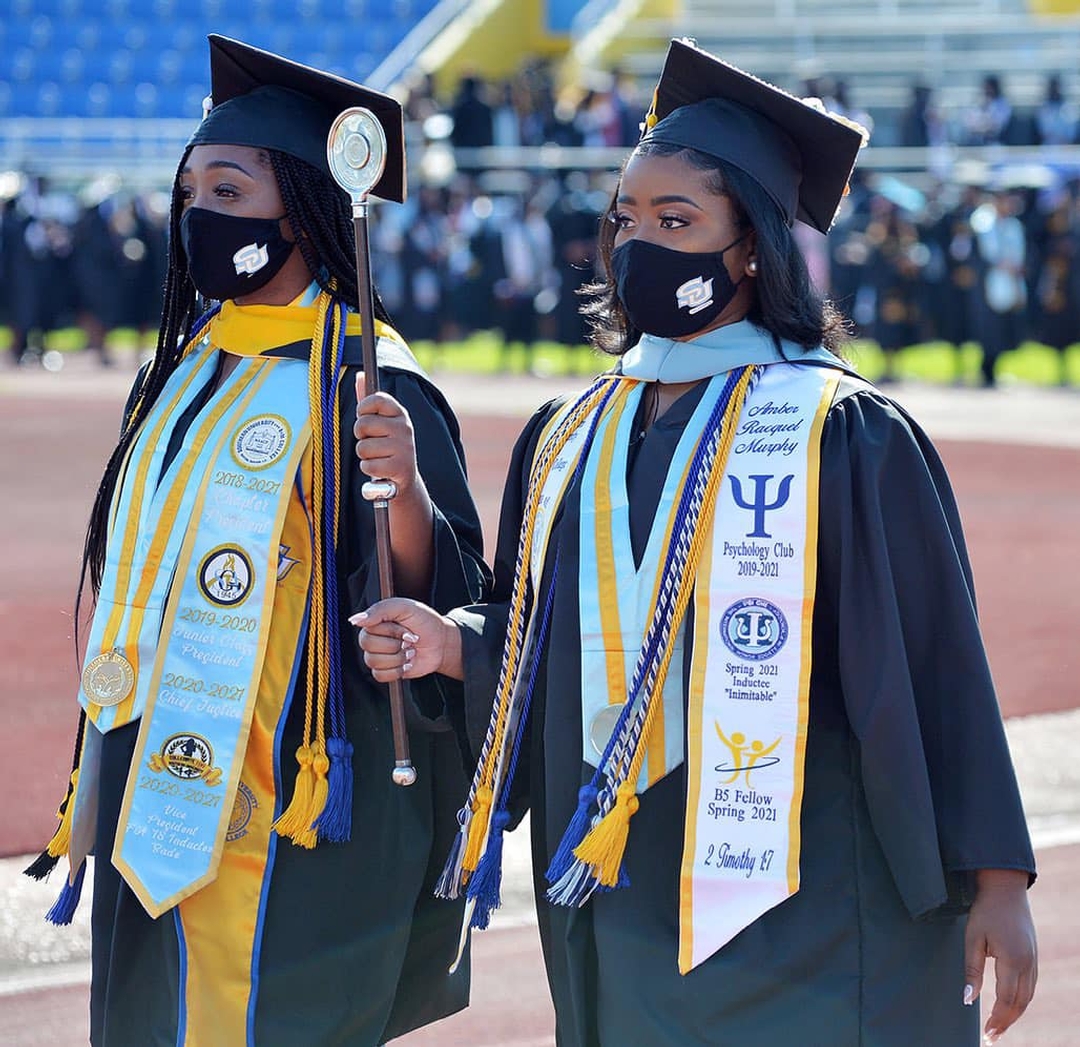 During a currently normal in-person ceremony (featuring masks, social distancing and temperature checks) during the ongoing COVID-19 pandemic, there a very noticeable yet welcome difference at the May 14 Commencement ceremony for the Southern University Spring 2021 class of graduates. Not one, but two chief student marshals led the way for their fellow students to culminate their respective academic journeys on the Bluff. Amber Murphy and Kelsey Perine, both graduates of the Nelson Mandela College of Government and Social Sciences, received the honor of being chief student marshals by each earning a culminative 4.0 GPA. According to the Office of the Register, both women's culminative averages were identical, down to the last decimal.
"I feel very humble and blessed," said Murphy, a native of Port Allen, Louisiana, and graduate of Port Allen High School. "This is something that I've always wanted since I came to Southern. When I saw the student chief marshal at my sister's graduation, I said that would be me when I graduate… and here I am."
Perine had similar sentiments about the coveted collegiate honor.
"It feels like a dream come true," said Perine, a native of Mobile, Alabama, and graduate of Baker High School. "I remember my mentor, Shantae Harvey, telling me about student marshals my freshman year. It became a goal of mine then. To say I did that and to share this honor with another amazing Black woman is so exciting. I am truly grateful."
Murphy, Perdine and nearly 600 fellow graduates were addressed by Bakari Sellers, nationally recognized attorney, political commentator and author. Sellers encouraged students to draw upon their strengths that have been stoked by challenges and challengers. The first example was a story of bouts faced by his fellow South Carolina native and world boxing champion Joe Frazier.
"I tell this story for two reasons," Sellers said to the captivated audience. "One — because I can't think of a better way to describe the college experience than enduring a relentless series of blows to the head that leave you beaten, bewildered and in a position to make history. And two — because it demonstrates what is possible when a prepared mind and body finds opportunity and absolutely refuses to quit. When you are resilient… when you are determined… when you are phenomenal… anything is possible.
Sellers, a frequent commentator on social justice, also encouraged students to use their knowledge and access not only for themselves but for others. He drew upon Dred Scott, the enslaved Black man whose case for freedom was struck down by the U.S. Supreme Court in 1857. Scott, though his travels, could have escaped on several occasions but he couldn't leave his family behind.
"He (Dred Scott) would not turn a blind eye to bondage," Sellers said. "He would not leave others behind... And neither can you. With great power comes great responsibility."
Sellers cited several societal and humane issues, as well as health inequities, including COVID-19.
"…And, if we don't do something about it, no one will." Sellers said.
After the commencement address, the bachelor's, master's and doctoral degrees were conferred.
Other highlights of the ceremony included:
Terrell Brown Sr. was awarded the Honorary Doctor of Humane Letters degree. Brown was recognized for his service as a renowned corporate executive, community leader, entrepreneur and philanthropist. He is also the benefactor for the university's first endowed chair, The James A. Joseph/United Companies Financial Corporation Endowed Chair in Small and Minority Business Enterprise.
Christopher J. Rogers Sr. and his daughter, Sariah Rogers, both received degrees. Christopher
Rogers, who is deputy CIO of client services at the Southern University Ag Center, obtained his Ph.D. in urban forestry and national resources. Sariah Rogers received her bachelor's degree in accounting.
Four cadets were commissioned as officers in the U.S. Armed Forces:
Second Lieutenant Shavante A. Mckendall
Active Duty
Quartermaster Corps
Germany
Second Lieutenant Demisha R. Thornton
Louisiana National Guard
Signal Corps
Bossier City, Louisiana
Second Lieutenant Monica W. Way
Louisiana National Guard
Military Intelligence
Carville, Louisiana
Ensign Tahj D. Clements
United States Navy
Service Warfare Officer
Duty Station: USS Shoup (DDG-86)
San Diego, California
For the replay of 2021 Commencement, click here. For a photo gallery, click here.