U.S. Agriculture Secretary Perdue reminds graduates that Southern has prepared them well to succeed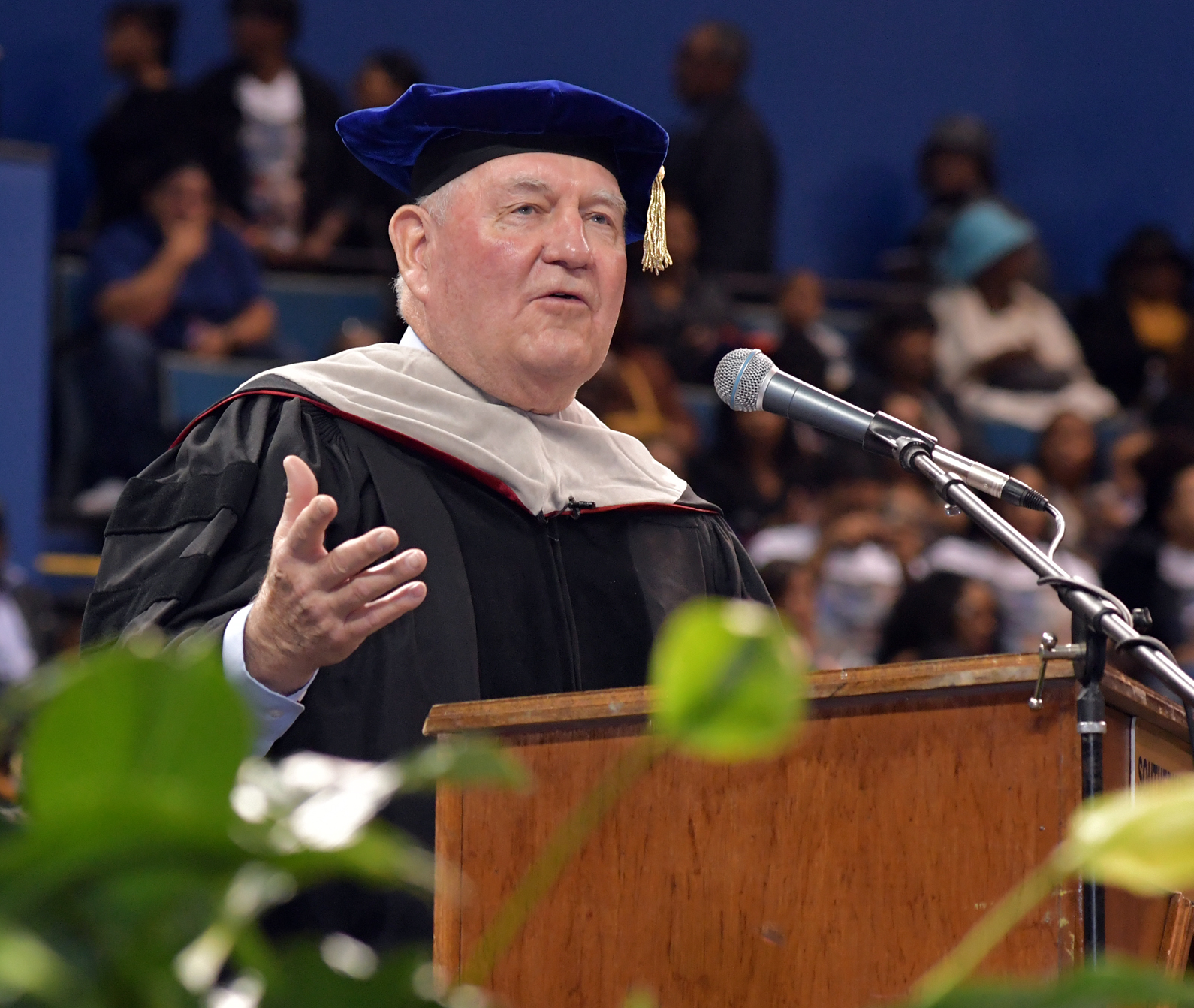 U.S. Ag Secretary Purdue tells graduates that Southern has prepared them well to succeed
More than 400 graduates today crossed the coveted stage in the F.G. Clark Activity Center at Southern University during its fall commencement ceremonies. Family, friends and loved ones cheered on the new holders of bachelor's, master's and doctoral degrees. U.S. Secretary of Agriculture Sonny Perdue, who served as commencement speaker, said the graduates were the "real dignitaries of the day."
Highlighting Southern's land-grant status, Perdue pointed out how Southern students and alumni not only make a difference in their immediate communities, but all over the nation in the agriculture industry and more.
"You're the ones to get it done," Perdue said. "Southern has made you a well-rounded, lifelong learner and giver. Now, it's your chance and your responsibility to give back for the rest of your life… and I know you'll do a great job doing it."
Southern and its sister campus, the Southern University Agricultural Research and Extension Center, have a longstanding partnership with the USDA, garnering millions of dollars for scholarships and research.
"Our partnership doesn't end there," said Perdue about funding. "Each year, we welcome 15-20 interns at the USDA from Southern. They get the experience, and we get bright minds and strong work ethic."
Perdue also highlighted that nearly 60 Southern alumni are employed with the USDA in high-ranking positions.
"The bar is raised higher each year by your alumni," he said. "Stretch yourselves… Know that
you're ready to tackle problems across the country and the world. Education is the competitive edge. Southern has prepared you well. You are primed for success."
After concluding his address, Perdue was invited back to the stage by Ray L. Belton, Southern University System president and Southern University Baton Rouge chancellor. Belton, along with System Board Chair Domoine Rutledge and Board member Curman Gaines, bestowed upon Perdue an honorary Doctor of Humane Letters degree.
Belton cited Perdue's advocacy for American farmers and diversity in the agriculture industry. He also pointed out that the Southern Ag Center receives half of its funding from the USDA, which recently championed a national farm bill yielding $40 million.
Immediately following the honor, candidates for the U.S. Armed Forces were sworn in by their respective branches. Receiving commissions were: Ensign Gabriel Frank, U.S. Navy; Ensign Edgar Perez, U.S. Navy; and 2ndLieutenant Dantry Johnson, U.S. Army.
Graduates then received their degrees by order of college and later recited the alumni oath, inducting them into the Southern University Alumni Federation. For a full list of graduates and information on the chief student marshal, click here.