Dr. Mildred R. Smalley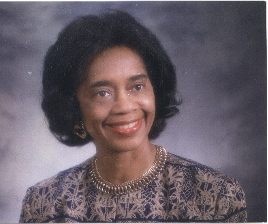 Mildred Robertson Smalley was born on April 9, 1937, in Gadsden, AL. She received her Bachelor of Science in chemistry and mathematics from Alabama A&M University, followed by a Master of Science degree from Fisk University. She went on to earn a PhD in inorganic chemistry from Louisiana State University (LSU).
During her matriculation in the PhD program in chemistry at LSU, she faced the obstacle of being the only Black female in the program at a time when LSU was just becoming integrated. Black students, including Blacks in the chemistry PhD program, were not permitted to use the LSU Chemistry Library at that time. Mildred Robertson Smalley led the fight to integrate the LSU Chemistry Library and subsequently became the first Black female to receive a PhD in chemistry from LSU and one of the first Black women in the United States to receive a PhD in inorganic chemistry. She conducted research at the Catalysis Division of Celanese Research Company and she served as a Post-Graduate Research Fellow at the Tulane School of Medicine.
During her tenure from 1965 to 2000 in the Department of Chemistry at Southern University at Baton Rouge (SUBR), Dr. Smalley became a pillar of chemical education at SUBR. She received multiple externally funded grants, totaling 3.5 million dollars, to enhance undergraduate research in chemistry at SUBR, hold summer enrichment programs for high school students in the Baton Rouge area, host summer research experience programs for college undergraduates, and conduct workshops for chemistry high school teachers in Bato Rouge and surrounding areas. From 1995 through 1999, she served as the Southern University-Baton Rouge Campus coordinator for the state-wide Louisiana Alliance for Minority Participation (LAMP) Mentoring Program.
In January 2000, Dr. Mildred Smalley became Vice Chancellor for Research and Strategic Initiatives (RSI) at SUBR, a position that she held until her retirement in 2007, at which time she attained the honor of Professor Emeritus of Chemistry. Under her seven-year leadership as VC for RSI at SUBR, external funding doubled; and the number of Louisiana Board of Regents (BOR) grants awarded to SUBR increased significantly. As well as being an exceptional teacher and administrator, Professor Mildred Smalley was recognized by her peers as being an ideal role model for students. She was an absolute personification of leadership, scholarship, mentorship, and teaching and administrative excellence in one unique package.
Dr. Smalley's diligence and excellence as a chemistry teacher and administrator did not reduce her community service activities. She was an active member of Iota Sigma Pi (Chemical National Honor Society for Women), the American Chemical Society, Phi Delta Kappa, Louisiana Academy of Sciences, National Organization for the Professional Advancement of Black Chemists and Chemical Engineers (NOBCChE), and Sigma Xi (National Research Society). She also was very active as a deaconess at Mt. Zion Baptist Church in Baton Rouge. She served as President of the Greater Baton Rouge Area YWCA and the 23rd President of the Gamma Eta Omega Chapter of Alpha Kappa Alpha Sorority Incorporated in Baton Rouge. She was always in great demand as a speaker at social, organizational, and church functions in the Baton Rouge area.