Dr. WIlliam E. Moore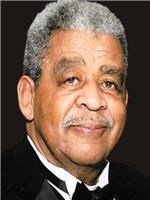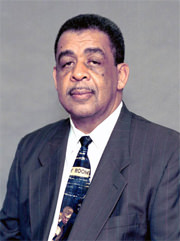 Dr. William "Bill" E. Moore earned a Bachelor of Science degree in Chemistry from Southern University in 1963. He went on to Purdue University where he earned a Ph.D. in Physical Biochemistry in 1967 and was the first African-American to receive a Ph.D. from the Purdue University Department of Chemistry.
Dr. Moore joined the chemistry faculty at Southern in the late 1960s and achieved the rank of full professor within five years. In this position, he established a strong undergraduate research program, which contributed to many of his students going on to obtain medical or doctoral degrees. He became the first president of the faculty senate in 1973, advocating for his fellow faculty members. As a young, energetic assistant professor in the SUBR Department of Chemistry in the early 70s, he taught freshman chemistry and biophysical chemistry while conducting an active research program in which he was a research mentor of both undergraduate and graduate students. As a teacher of freshman chemistry, he was innovative in his approach to teaching, even back in the 70s. He published an article in the Journal of Chemical Education on a new, multi-track teaching approach that he was using in this honors-chemistry freshman class at that time. Always keeping abreast of the cutting edge of technology, Dr. Moore was preaching the virtues of computer assisted instruction (CAI) at a time when the top-of-the-line computer had only 64K of memory. It was Professor Moore's excellence in teaching, research, and mentoring which, in the 1970s, led to his being an invited lecturer at the Pasteur Institute in Paris, France and being selected as a NATO Fellow in Louvain La Neuve, Belgium, where he studied the use of computers in science education. A paper, published in 1979, that he presented as an invited lecturer at the Pasteur Institute included two undergraduates as co-authors. His research accomplishments resulted in his being appointed as Chair of the General Research Support Review Committee at the National Institutes of Health in 1981.
Moore left Southern in 1982 to pursue other positions in higher education, these include Academic Vice President, Distinguished Professor of Chemistry, and Director of Title III Programs at Prairie View A&M University in Texas. In 1985, he served as Academic Vice President (chief academic officer) at Texas Southern University in Houston. He also spent time at Texas A&M, Norfolk State and the University of Virginia. Moore returned to Southern in 1989 to serve as Vice Chancellor for Academic Affairs.
As the chief SUBR academic officer during the period of 1989 to 1997, Dr. Moore exemplified his passion for improving the lot of minority scientists and engineers. He began the decade of the 1990s by introducing a university-wide volunteer mentoring program at Southern University. He invented a novel freshman student program, The Junior Division Academy, a focused academic improvement and mentoring approach to increase the success of students with average achievement levels. During the mid-portion of the decade, he was actively involved in ACT prep programs for high school students while working closely with the NASA Sharp Plus Program. His work in mentoring was always first class, as evidenced by feedback from parents, high school principals, and students. Other initiatives that occurred under his watch as SUBR's chief academic officer include instituting the African American Experience and establishing Service Learning as graduation requirements, establishing the pre-college quiz bowl competition on campus, founding the Literary Society at SUBR, setting up a multimedia computer camp for elementary students, instituting an International Cultures Program on campus, and establishing a study-abroad program in Orizaba, Veracruz Mexico.
After returning to the SUBR Chemistry Department in 1997 as a full-time instructor, Dr. Moore (during the period of 1998-2002) served as co-principal investigator of the NSF HBCU-UP SMART Program. Later he served as the chief (or coordinating) mentor in the HBCU-UP SMART SREU Program at SUBR. The SREU (Summer Research Experiences for Undergraduates) Program usually consisted of 26 to 30 students. Although each student was assigned to an individual research mentor, all students met twice per week in a research enrichment seminar class. As the chief SREU mentor, Dr. Moore was the instructor of this class, in which he discussed general principles, protocols, and practices in research; writing research reports and giving oral presentations; preparing for graduate school, etc. A significant outgrowth of this class was the creation of the first virtual classroom at SUBR to support mentoring activities. One of Dr. Moore's pet projects centered on the improvement of communication skills of STEM majors and on general GRE preparation. The academic leadership of Dr. Moore led to the creation of a systemic mentoring program at Southern University.
Selected Honors and Activities
1975, Dr. Moore took a one-year leave to assist 34 Historically Black Colleges and Universities in developing programs in interdisciplinary studies.
In 1981, Dr. Moore was appointed chairman of the General Research Support Review Committee at The National Institutes of Health.
In 1986, Dr. Moore was selected as one of five editors of the first proceedings of the White House Conference on Science and Technology for Minorities.
In 2001, Dr. Moore was one of 50 Americans invited to participate in a Project Kaleidoscope Change Agents Roundtable on the use of technology to improve instruction of science, mathematics, and engineering.
In 2004, Dr. Moore was named one of Purdue Chemistry's outstanding alumni.
On June 2, 2006, Purdue University recognized the four decades of Dr. Moore's dedication to teaching, research, and mentoring by establishing the William E. Moore Distinguished Professorship of Earth and Atmospheric Science and Chemistry in its chemistry department. The instituting of this professorship at Purdue marked an event of historical significance, for it made Dr. Moore likely to have been the first African American for whom a distinguished professorship in chemistry at a major university was named.
In 2007, the Southern University Board of Supervisors approved the appointment of Dr. Moore as System Distinguished Professor, the highest honor that the SU System awards to an educator. This honor was bestowed upon him not only for his contributions in education to the SU System but also for the positive impact of his teaching, research, and service on the state, the nation, and the world. In achieving this high honor, he joined the distinguished few who have received the Nobel Prize of Education in the SU System.
In 2010, Dr. Moore was named Distinguished Alumnus of the College of Science at Purdue University.
In 2014, Dr. Moore was one of two recipients of the Southern University Centennial Alumni Achievement Award.