Online Continuing Education Courses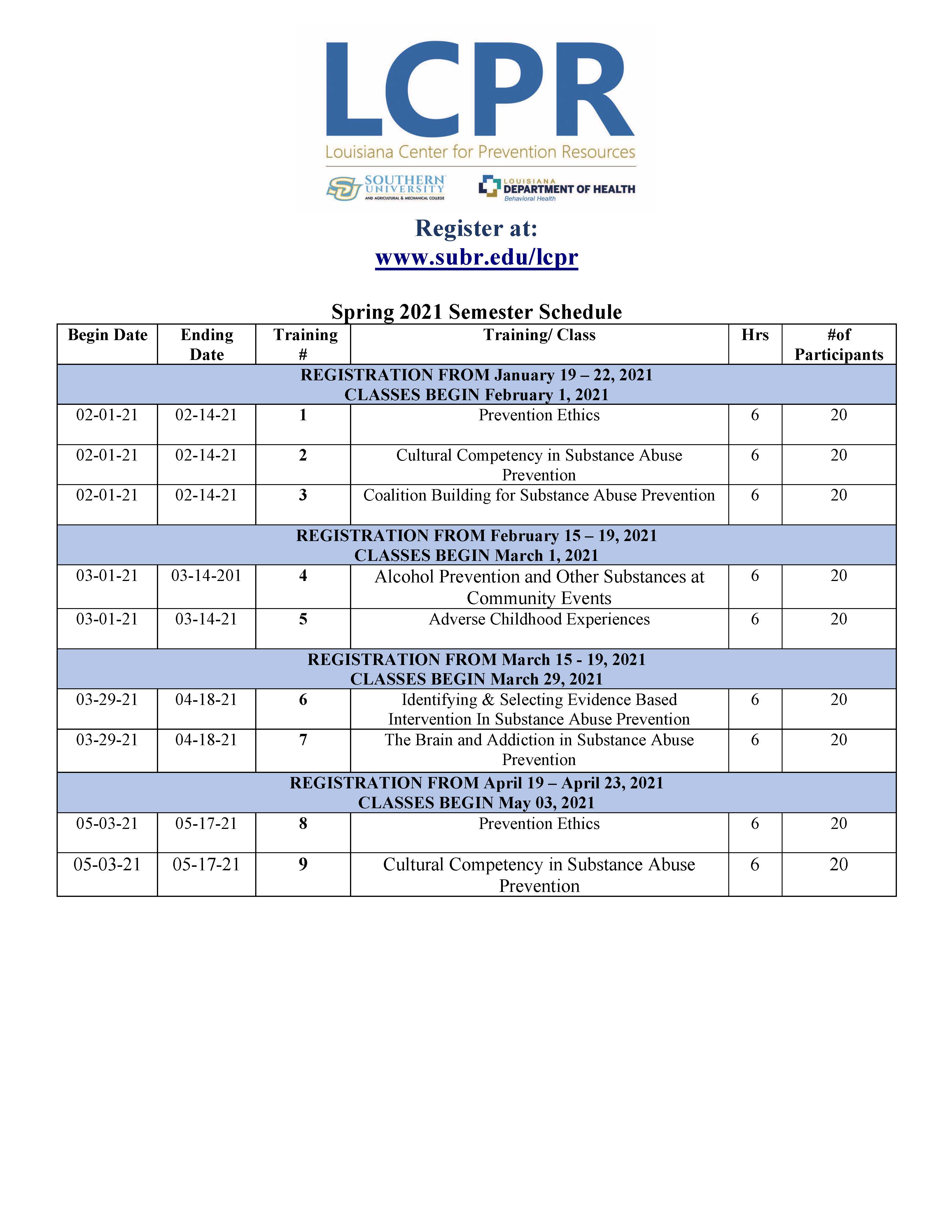 Online Continuing Education Courses
1. Prevention Professional Seminar. 45 Clock Hours
This course provides an introduction to the field of prevention with emphasis mainly on substance abuse and is required for Prevention Professional certification/licensure. A focus on the history of drug use, developmental theories that support prevention, approaches to address the problem, and funding sources. The public health model will be used to demonstrate theories of change and graphically displayed in a logic model. Students enrolled in this course will be preparing for the Prevention Professional Examination.
2. Prevention Ethics. 6 Clock Hours
This seminar reviews the Louisiana code of ethics and enhances participants understanding of moral development theories, presents ethical dilemmas in the prevention field and provide guidelines for addressing these dilemmas.
3. Cultural Competency in Substance Abuse Prevention. 6 Clock Hours
This seminar emphasizes the pivotal role of cultural sensitivity in the prevention field. Participants will be able to define culture and how it affects the delivery of prevention services, understand the importance of cultural sensitivity and how it relates to evidence-based practices, and how cultural sensitivity can be implemented into practice.
4. Prevention of Mental, Emotional, and Behavioral Disorders. 6 Clock Hours
This seminar highlights progress and possibilities in the prevention of mental, emotional, and behavioral disorders (MEB) among young people with special emphasis on conduct disorders and oppositional defiant behaviors. Research evidence underscores the importance of identifying and intervening at early ages to prevent the onset of these disorders that have serious human, societal, and economic impacts. Information presented is applicable for persons working in the fields of criminal justice, substance abuse prevention, education, mental health and other related fields.
5. Suicide Prevention. 6 Clock Hours
This workshop demonstrates the use of CCYS data to understand suicidal related data such as depression and suicide ideation related to the specific parish. Helpful for local health care professionals, community organizations and prevention professionals.
6. Alcohol Prevention and Other Substances at Community Events. 6 Clock Hours
The workshop will be a toolkit for prevention professionals to implement at local fairs, festivals, and other community events to reduce the use of alcohol and other substances. Problems associated with alcohol and other substances will be used to underscore the need for prevention intervention to address these issues using both activities and policies.
7. Adverse Childhood Experiences and Prevention. 6 Clock Hours
As the field of prevention expands to prevent mental, emotional and behavioral disorders, this workshop focuses on the association between childhood maltreatment and later-life health and well-being. Participants will be able to identify childhood experiences of abuse, neglect, and family dysfunction and their relationship to problems of substance use and other behavioral health problems.
8. Prevention and Mental Health First-Aid. 6 Clock Hours
Aims to promote positive mental health by increasing psychological well-being, competence and resilience, and by creating supportive living conditions and environments. Participants will understand the role of coalitions in developing safe and healthy communities.
9. Identifying and Selecting Evidence Based Prevention Interventions. 6 Clock Hours
Workshop focuses on using data to identify appropriate EBI to address targeted risk and protective factors at the community, parish and/or state levels. Participants will be able to interpret appropriate level epidemiological data and match to key elements of EBI, assess the need for adaptation, and develop and implement a continuous quality improvement plan.
10. Health Disparities and Prevention. 6 Clock Hours
This workshop focuses on the differences in health outcomes based upon racial or ethnicity, sexual identify, age, disability, sex, socioeconomic statues and geographic location. Participants will be able to recognize the impact that social determinants have on health outcomes in their specific community, parish or state.
11. Preventing Prescription Misuse and Abuse. 6 Clock Hours
Workshop addresses the issues about the misuse and abuse of stimulants, sedatives, narcotic prescription drugs, over the counter cough medicines and "pill for every ill". Participants have the opportunity to develop a logic model based upon contributing factors for their individual communities.
12. Facilitation Skills Training and Substance Abuse Prevention. 6 Clock Hours
Workshop provides information and techniques essential for group facilitation processes which will thereby foster team building, maximize meeting efficiency and effectiveness, and tap into the benefits of collective wisdom that can fundamentally enhance the outcomes of community-based prevention efforts.
13. The Brain and Addiction in Substance Abuse Prevention. 6 Clock Hours
Participants will be able to describe how alcohol affects brain chemistry by altering levels of neurotransmitters. Information will be provided on the how these chemicals transmit messages throughout the body that control thought processes, behavior and emotions.
14. Coalition Building for Substance Abuse Prevention. 6 Clock Hours
Coalition Building is a 3-6-hour workshop that introduces participants to the Strategic Planning Framework (SPF). The SPF is a data driven process that includes assessment, capacity, planning, implementation and evaluation with cultural competence and sustainability interwoven through each step. Participants will be exposed to information that demonstrates the benefits of collaboration to accomplish mutual goals.