Classes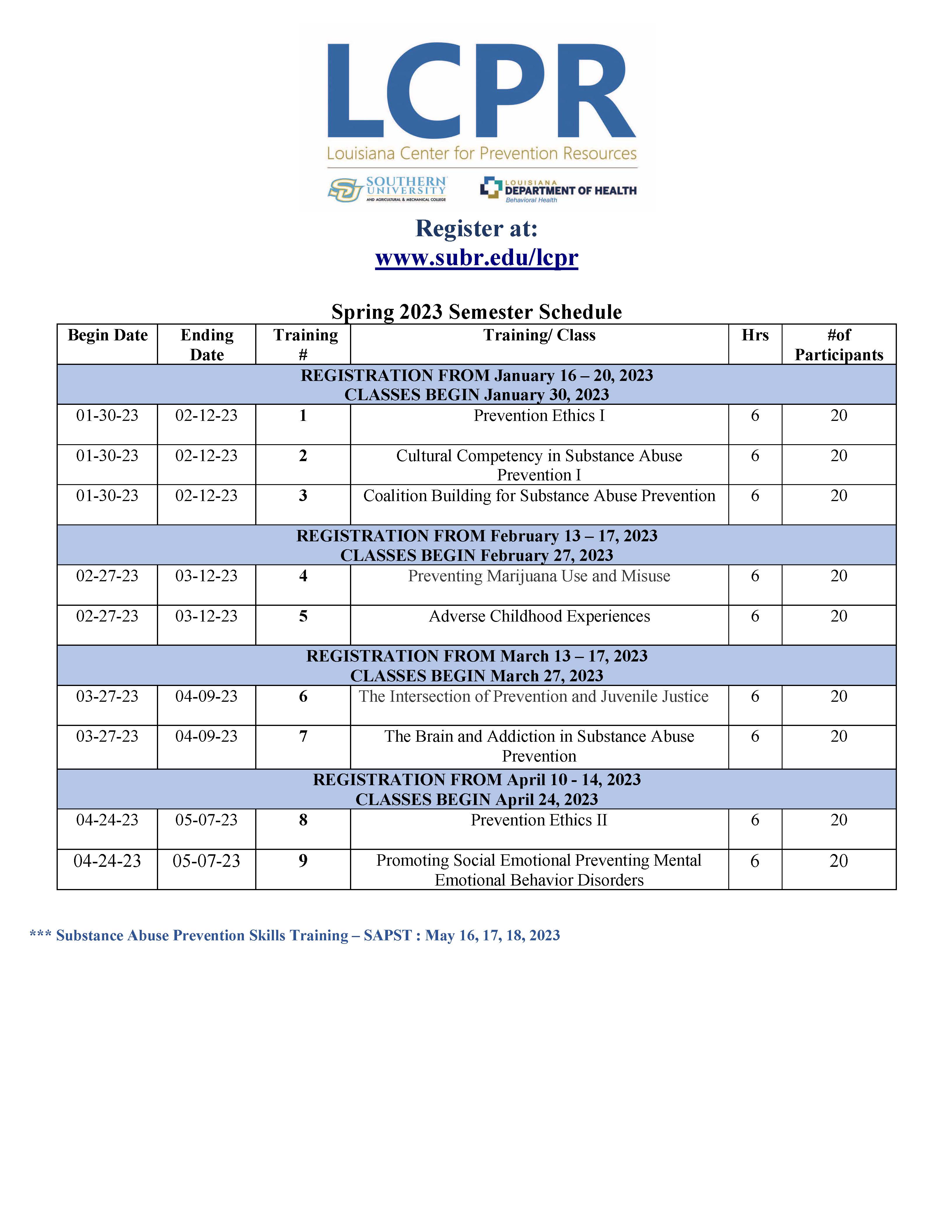 Classes Offered by LCPR
Prevention Ethics Seminar. This seminar reviews the Louisiana code of ethics and enhances participants understanding of moral development theories, presents ethical dilemmas in the prevention field and provide guidelines for addressing these dilemmas.
Cultural Competency in Substance Abuse Prevention.This seminar emphasizes the pivotal role of cultural sensitivity in the prevention field. Participants will be able to define culture and how it affects the delivery of prevention services, understand the importance of cultural sensitivity and how it relates to evidence-based practices, and how cultural sensitivity can be implemented into practice.
Substance Abuse Prevention Skills Training. 31 Clock Hours - ONSITE SAPST is an innovative 3 or 4-day training, combining online and in-person components, offers practitioners a comprehensive introduction to the substance abuse prevention field. Grounded in current research and SAMHSA's Strategic Prevention Framework, the SAPST is designed to help practitioners develop the knowledge and skills needed to implement effective, data-driven prevention that reduce behavioral health disparities and improves wellness. It is appropriate for entry-level prevention practitioners, as well as professionals working in related fields.
Coalition Building for Substance Abuse Prevention. Coalition Building is a 3-6-hour workshop that introduces participants to the Strategic Planning Framework (SPF). The SPF is a data driven process that includes assessment, capacity, planning, implementation and evaluation with cultural competence and sustainability interwoven through each step. Participants will be exposed to information that demonstrates the benefits of collaboration to accomplish mutual goals.
Alcohol Prevention and Other Substances at Community Events. The workshop will be a toolkit for prevention professionals to implement at local fairs, festivals, and other community events to reduce the use of alcohol and other substances. Problems associated with alcohol and other substances will be used to underscore the need for prevention intervention to address these issues usingboth activities and policies.
Adverse Childhood Experiences and Prevention. As the field of prevention expands to prevent mental, emotional and behavioral disorders, this workshop focuses on the association between childhood maltreatment and later-life health and well-being. Participants will be able to identify childhood experiences of abuse, neglect, and family dysfunction and their relationship to problems of substance use and other behavioral health problems.
Identifying & Selecting Evidence Based Prevention Intervention. Workshop focuses on using data to identify appropriate EBI to address targeted risk and protective factors at the community, parish and/or state levels. Participants will be able to interpret appropriate level epidemiological data and match to key elements of EBI, assess the need for adaptation, and develop and implement a continuous quality improvement plan.
The Brain and Addiction in Substance Abuse Prevention. Participants will be able to describe how alcohol affects brain chemistry by altering levels of neurotransmitters. Information will be provided on the how these chemicals transmit messages throughout the body that control thought processes, behavior and emotions.
Preventing Marijuana Use and Misuse. The legal status of marijuana is rapidly changing across the country. This course provides recent national and state epidemiological data from Monitoring the Future and Caring Communities Youth Survey to show trends in use and abuse especially since the legalization of medical marijuana in Louisiana since 2017 PREVENTING and decriminalization of marijuana in local areas. Scientific evidence will show the short and long-term effects of marijuana use on the brain especially early initiation of use.
Suicide Prevention. This workshop demonstrates the use of CCYS data to understand suicidal related data such as depression and suicide ideation related to the specific parish. Helpful for local health care professionals, community organizations and prevention professionals.
Facilitation Skills Training and Substance Abuse Prevention. 6 Clock HoursWorkshop provides information and techniques essential for group facilitation processes which will thereby foster team building, maximize meeting efficiency and effectiveness, and tap into the benefits of collective wisdom that can fundamentally enhance the outcomes of community-based prevention efforts.
Prevention and mental Health First-Aid. Aims to promote positive mental health by increasing psychological well-being, competence and resilience, and by creating supportive living conditions and environments. Participants will understand the role of coalitions in developing safe and healthy communities.
The Intersection of Prevention and Juvenile Justice. introduces the alignment of behavioral health and the Juvenile Justice System based upon SAMHSA's criminal justice initiatives. Recognizing and addressing trauma and disruptive behaviors in formative years can change life trajectory for many youths who would otherwise end up in juvenile centers.
Promoting Social Emotional Preventing Mental Emotional Behavior Disorders. Social-emotional learning (SEL) is the process of developing the self-awareness, self-control, and interpersonal skills that are foundational for school, work and life success. SEL is the precursor to preventing mental, emotional and behavioral disorders. Early promotion of strong social-emotional skills enhances comprehensive positive outcomes across multiple domains.
Preventing Prescription Misuse and Abuse. Workshop addresses the issues about the misuse and abuse of stimulants, sedatives, narcotic prescription drugs, over the counter cough medicines and "pill for every ill". Participants have the opportunity to develop a logic model based upon contributing factors for their individual communities.
Health Disparities and Prevention. This workshop focuses on the differences in health outcomes based upon racial or ethnicity, sexual identify, age, disability, sex, socioeconomic statues and geographic location. Participants will be able to recognize the impact that social determinants have on health outcomes in their specific community, parish or state.