University breaks ground on new philanthropy center; benefactors present gift of additional $1M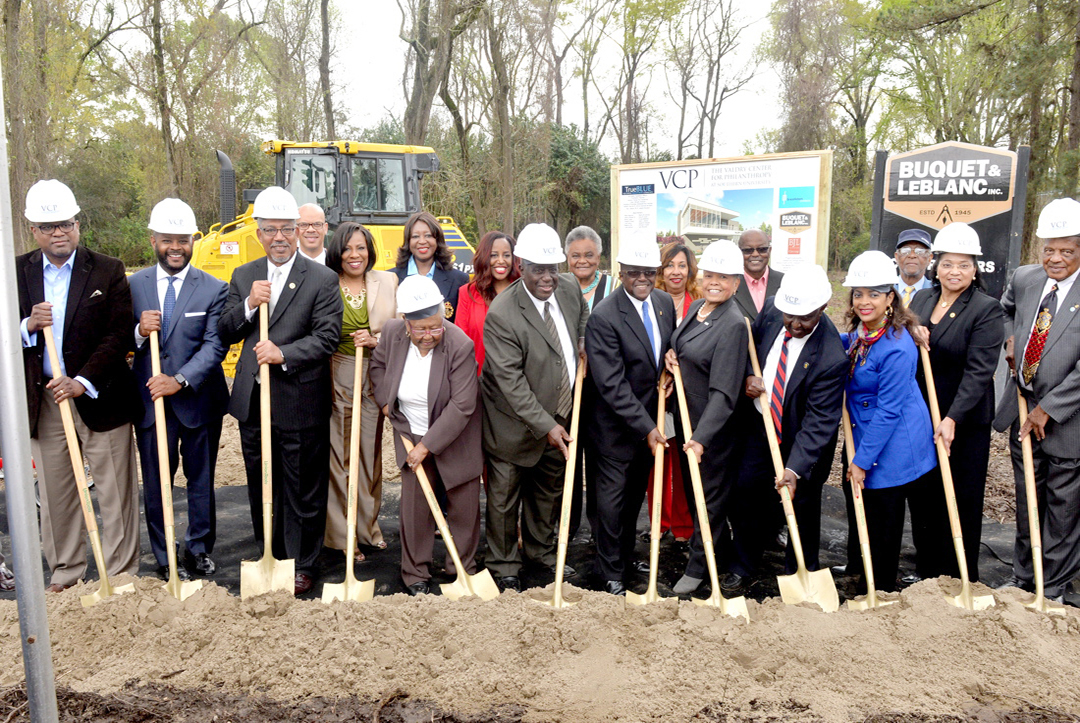 On Friday, Southern University officials, alumni and supporters, along with community leaders, convened to celebrate the establishment of the university's Valdry Center for Philanthropy. Despite sporadic rain, the groundbreaking ceremony commenced on campus.
"The sun is clearly shining on Southern University today," said Ray L. Belton, Southern University System president and Baton Rouge campus chancellor.
The Valdry Center, slated for completion by early 2019, is an academically based research center focused on philanthropic studies and nonprofit management. The center seeks to educate the socially conscious student, volunteer and practitioner in the emerging field of philanthropic studies through exploring the economic, historical, and philosophical rationales for voluntary action in the local, national, and international arenas. Programming for the degree in philanthropic studies — to be awarded by Southern's Nelson Mandela School of Government and Social Sciences — will begin this fall.
"This is a great opportunity for students for generations to come," said Warren Valdry, one of the benefactors for the center. "We (Southern) will be a university system unmatched by any other in the nation."
The center is inspired by the alumnus and his wife, Virginia, and his brother, Leon, who are also alumni. The family has collectively made sizeable contributions to the Southern University Foundation for more than 50 years. They continued that tradition by gifting the university with a $1M check at the ceremony.
"It is apparent that they (Valdry family) truly bleed blue and gold," Belton said.
Baton Rouge Mayor-President Sharon Weston Broome, expressed the importance of giving back and the need for a successful Southern University locally and beyond.
"Southern University is part of the fabric not only but America as a historically black college," Broome said.
Also in attendance for the festivities were Ann Smith, Southern University Board of Trustees chairwoman; current and past Southern University Foundation board members; and board members and representatives of the Southern University Alumni Federation.
According to Alfred Harrell, Foundation CEO, the Kellogg Foundation funded the feasibility study for the project. Also, local nonprofit and not-for-profit organizations have committed to offering support to the center and its initiatives.