Dr. Eduardo Martinez-Ceballos
Eduardo Martinez-Ceballos, Ph.D.,
---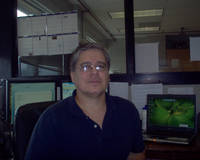 Assistant Professor of Biology
Courses:
Cell and Molecular Biology (BIOL 402, undergraduate)
Molecular and Celular Biology (BIOL 550, Master's program)
Advanced Biochemistry (ENTX 732, Ph.D. program)
Office: 217 Health Research Center
Laboratory: 216 Health Research center and
256 Lee Hall
Phone: (225) 771-3606
E-mail address: eduardo_martinez@subr.edu
Dr. Martinez-Ceballos received his Ph.D. in Cell and Molecular Biology in 2001 from Tulane University, New Orleans. He then worked as a Postdoctoral Researcher in the laboratory of Dr. Lorraine Gudas at the Weill Cornell Medical College in New York City. Dr. Martinez-Ceballos became an Assistant Professor at southern University in August 2007.
The main project in Dr. Martinez-Ceballos laboratory focuses on the role of the Hoxa1 transcription factor on the differentiation of mouse embryonic stem cells (ESCs) along a neuroectodermal pathway. The long-term goal of this project is to elucidate and characterize the molecular mechanisms by which the Hoxa1 transcription factor directs the differentiation of embryonic stem cells into neurons. Expression of the Hoxa1 gene in cells and tissues can be activated by retinoic acid (RA), a derivative of vitamin A. Inactivation of both alleles of the Hoxa1 gene in mice results in numerous developmental defects, including hindbrain deficiencies and abnormal skull ossification, and ultimately, in neonatal death. In humans, truncating mutations of the HOXA1 gene have been associated to autism susceptibility. This project formed part of a Master's thesis by Henry Palfrey who graduated in May 2010. This project is currently funded by an IDeA Networks of Biomedical Research Excellence (LSU/INBRE) grant from the NIH.
A second project in Dr. Martinez-Ceballos laboratory seeks to identify and characterize the drug-resistant cell populations, presumably cancer stem cells, which arise after treatment of human prostate cancer cells lines with combinations of a number of environmental pollutants and anticancer drugs. The activation of various cell survival pathways is currently been examined in treated versus untreated cancer cell lines. This project forms part of the dissertation research of two Ph.D. students.
Dr. Martinez-Ceballos' laboratory is also committed to the training of undergraduate students. During the last three years, five SUBR undergraduate students have completed a number of research projects. Three of these projects enabled an equal number of undergraduate students (Katasha August, Rokeisha Cole, and Tranole Joseph) to graduate with Honor Theses in May 2008.
In order to introduce High School students to research, and as part of the University's ongoing recruitment efforts, our laboratory also participates in the SUBR Upward Bound program. This Summer (2010), two groups of High School students are receiving training in the laboratory under the tutelage of two of Dr. Martinez-Ceballos' Graduate Students: Janana Snowden and Lea Dixon (find out more at the Martinez Lab Page.
---