Dr. Wesley Gray's Webpage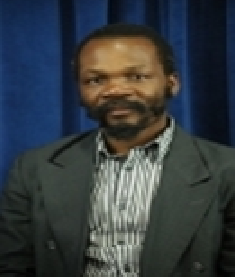 Links
Student Training Program (SREEP)
Wesley G. Gray, PhD
Professor of Environmental Toxicology
Professor of Chemistry
Bachelor's Degree: Wright State University, 1986
Ph.D.: University of Maryland at Baltimore, 1993
Postdoct.: University of Wisconsin Madison, 1994
Biochemistry/Molecular Endocrinology
Office: 116A Lee Hall
Phone: 225-771-2122
E-mail Address: Wesley_Gray@subr.edu
---
Biography
Dr. Gray have been directing the Molecular Endocrinology Research Group; training graduate students in Environmental Toxicology at Southern University as well as helping to establish a strong undergraduate research presence in the College of Sciences for over ten years. He have made an impact at SUBR through his research productivity and the number and caliber of undergraduate students he has mentored who have graduated and gone to graduate and professional school. Over the past eight years, some 12 students mentored by me have gone to graduate or professional school and have obtained (or are currently pursuing) their M.D. or Ph.D. For example, two 2012 female chemistry graduates from my lab are currently first year Ph.D. chemistry majors at The University of Ohio and Louisiana State University, and two 2013 chemistry graduates of my lab (one male and one female) will enter New York University and the University of Wisconsin, respectively, this fall to pursue Ph.D. degrees in biochemistry. These numbers are particularly significant in light of the small number of African Americans with Ph.D.s in the chemical and biochemical sciences. In addition to his individual research grants, he have participated in several collaborative grant projects. He has been a coPI on a multi-million dollar, four year NSF-RISE grant awarded to the Environment Toxicology program and was a participating investigator on an NSF-instrumentation grant awarded to the Department of Chemistry. He was the program director for the Environmental Technology Consortium from 2001-2004, established the Summer Research Institute for freshmen and Sophomores (SRIFS) and is currently, the program director for two institutional grants- The Minority Biomedical Research Support (MBRS) of Competitive Research Excellence (SCORE) Program MBS-SCORE, and Louisiana Biomedical Research Network (LBRN) program. In addition, Dr. Gray serve on several university programs and committees including, the university sabbatical leave committee, program director for the SUBR STEM-LLC, Chair for recruitment and retention for the Department of Environmental Toxicology, and member of the advisory council for the " Center for Teaching and Learning Excellence". The implementation of these programs has help to support our retention activities and increase the number of well prepared undergraduates' students who peruses biomedical science graduate careers.
---
Area of Interest
The Molecular Endocrinology Research Group" (MERG) has pioneered a new field of research known as Nutrigenomics aimed at understanding how bioactive chemical from medicinal plants influence health and disease.
---
Teaching (doctoral level; since 2002)
University of Wisconsin-Madison
Special Topics in Biochemistry (Biochemistry 7000) - organized and taught two units of receptor biology to undergraduate students. Dr. Gorski, was the primary instructor, 1996
Southern University Baton Rouge
Biochemistry I and II (Chemistry 340/341) - General Biochemistry for science majors (biology and chemistry majors) taught an average class size of forty (40) students in 1998-2008 and 2012-2014.
Biochemistry Laboratory 1 and II (Chemistry 342/343) - General Biochemistry laboratory for science majors (biology and chemistry majors) taught an average class size of fifteen (15) students in 1998-2008 and 2012-2014.
General Chemistry (Chemistry 128) - Introductory Chemistry to major and non-majors taught to an average class size of eighty (80) students in 2012-2013.
Advanced Biochemistry (Environmental Toxicology 723) - This is an advanced biochemistry for graduate students in the Environmental Toxicology PhD program. I Taught this courses from 1998-2011 then again in 2013-2014. The average class size ranges from five to six students.
Special Topic in Environmental Toxicology (Environmental Toxicology 736) -"Steroid Receptor in Health and Diseases" Organizes and offers this graduate course in hormones and disease. Emphasis is placed on environmental hormone and endocrine disruptors.
Bioinformatics Tools (Environmental Toxicology 757) - Faculty coordinator and organizer for this introductory bioinformatics course. I was responsible for teaching selective areas of the course.
Chemistry Research (Chemistry 440)- Responsible for organizing the seminar component of this course in conjunction with the departmental seminar, 1998-2001.
Environmental Toxicology Seminar (Environmental Toxicology 710)- Responsibly for organizing and teaching the seminar course to graduate students. The topic varies from semester to semester and involves both student speakers and invited external speakers (1998-2008, 2011, 2013).
Biochemical Methods (Environmental Toxicology 737)- Coordinator for the research methodology course offered for graduate students.
---
Selected Publications 2009-2013
S. Koppula, M. Tan, A. Hurst, C. Telles, and W. Gray. (2013) Microdoses levels of butadiene diepoxide (BDO2) induced toxicity in prostate cancer cells. Pharmacol. Pharm. 4, 209-217.
S. Naragoni, S. Sankella, K. Harris, and W. G. Gray. (2009) Phytoestrogens regulate the mRNA and protein levels of guanine nucleotide binding protein beta subunit (GNB1) In MCF-7 cells. J. Cell. Physiol. 219, 584-594
R. Solipuram, S. Koppula, A. Hurst, K. Harris, S.Naragoni, K. Fontenot, and W. Gray, (2009) Molecular and biochemical effects of a kola nut extract on androgen receptor-mediated pathways J. Toxicol. 530279; doi:10.1155/2009/530279
K. Fontenot, S. Naragoni, M. Claville, and W. Gray. (2007) Characterization of bizzy nut extracts in estrogen responsive MCF-7 breast cancer cells. Toxicol. Appli. Pharmacol. 220, 25-32
L. Ramanathan, and W. Gray (2003) Identification and characterization of a phytoestrogen specific gene from breast cancer cells. Toxicol. Appl. Pharmacol. 91, 107-117
W. Washington, L. Hubert, D. Jones, and W.G.Gray (2001) Bisphenol A binds to the low-affinity estrogen binding site. In Vitro Mol. Toxicol. 14, 43-51.
S. Stahl, T-Y. Chun, and W.G. Gray (1998) Phytoestrogens act as estrogen agonists in an estrogen-responsive pituitary cell line. Toxicol. Appl. Pharmacol.152, 41-48.
I. Anderson, C.R. Bartly, RA. Lerch, W.G. Gray, P.D. Friesen, and J Gorski. (1998) "Estrogen Receptor a Requires no Accessory Factors for High Affinity Binding to a Consensus Response Element" Biochemistry 37, 17287-98.
W.G. Gray, and J Gorski. Identification and characterization of an estrogen responsive element binding protein repressed by estradiol. (1996)Biochemistry 35, 11685-11692.
S.G. Lundeen, W.G. Gray, I. Anderson and J. Gorski. Estrogen receptors. (1996) In Handbook of Endocrinology, Vol. I, 2nd ed., Gass G.H., Kaplan, H.K, eds., CRC Press, Boca Raton, FL, pp. 121-148.
W.G. Gray, E. Biswas, N. Bashirelahi, and S. Biswas. A low affinity estrogen receptor in pregnant rat uteri: analysis and partial purification. (1994) Proc. Natl. Acad. Sci. USA, 91, 11502-06.
E.E. Biswas, P.H. Chen, W.G. Gray, Y. Li, S. Ray, and S.B. Biswas. Purification and characterization of a yeast DNA polymerase-complex with associated primase, 5'-3' exonuclease, and DNA dependent ATPase activity. (1993) Biochemistry 32, 3013-19.
RELATED INFO