Dr. Subramanyam N Murthy
Links: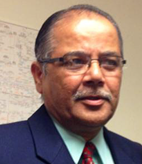 Murthy's Laboratory
Postdoctoral Fellows
S.N. Murthy, Ph.D.
Professor
Environmental Toxicology PhD Program
Phone: (225) 771-4717
Fax: (225) 771-5350
E-mail: s_murthy@subr.edu
Office: 121 Lee Hall
---
Biography
Dr. Murthy joined the Environmental Toxicology PhD Program at the Southern University and A&M College in January 2014. After obtaining his PhD while working at the National Institute of Nutrition, a premier institute of the Indian Council of Medical Research, he moved to Oregon State University, Corvallis, OR to continue his work on lysine metabolism in the brain. He has also worked on methionine, homocysteine and arginine as his interests are in intermediary metabolism. Before coming to Tulane University School of Medicine in 2001, he worked on hepatotoxicants like chloroform, trichloroethylene, thioacetamide and allyl alcohol in the department of toxicology, University of Louisiana at Monroe, LA. At Tulane, among others, he has worked on animal models of insulin resistance, pulmonary hypertension and various nutritional alterations. He has several years of working experience with animal models carrying out experiments of balloon catheter mediated injury of carotid artery in both Zucker fatty and Sprague Dawley rats for testing the effect of various pharmaceuticals on intima/media ratio (a surrogate marker of CVD). He has worked on guinea pigs, monkeys, mice, and rats routinely. He has extensive experience in microsurgical procedures isolation of various vessels like aorta, carotid and femoral arteries and veins for experimentations and catheterizations. He has trained students in several research methods like amino acid analysis, radio immuno assay, antibody production, titre determinations, trace element analysis, chromatographic methods, isolation of sub cellular particles, immunohistochemical methods and animal experimentations in addition to preparing them in scientific writing; manuscripts and presentations.
Currently he is working on the dietary effects of methionine and cholesterol on vascular tissue and studying the effects of some common drugs in clinical practice. Additionally, he is investigating the toxicity due to Staphylococcus aureus infection using both in vivo and in vitro methods. He has trained several students over the years, and is currently mentoring some graduate students.
---
Area of Interest
Dr. Murthy's research interests are in the areas of intermediary metabolism, amino acids, nutrition, toxicology, insulin resistance, pulmonary hypertension using animal models to contribute to furthering the understanding of various disease processes and ways to alleviate them.
---
Teaching (doctoral level)
ENTX 721 Principle of Toxicology, ENTX 736 Special Topics, ENTX 724 Advanced Biochemistry II, ENTX 799 Research Practicum
---
Selected Peer Reviewed Publications (in reverse chronological order; from over 60)
Published over 50 peer reviewed papers, 4 book chapters with close to 100 presentations in meetings.
NK Somanna, PM Wörner ,SN Murthy , EA Pankey ,D Schachtele , RC St Hilaire, D Jansen ,AE Chafin ,BD Nossaman ,EU Alt ,PJ Kadowitz , R Izadpanah. (2014) Intratracheal Administration of Cyclooxygenase-1 Transduced Adipose Tissue Derived Stem Cells Ameliorates Monocrotaline Induced Pulmonary Hypertension in Rats. Am. J. Physiol. Heart Circ. Physiol.
SN Murthy (2012) Effects of insulin detemir on balloon catheter injured carotid artery in Zucker fatty rats. J Diabetes Complicat. 26, 470-475.
SN Murthy, CV Desouza, NW Bost ,RC St Hilaire ,DB Casey, AM Badejo, JS Dhaliwal, J McGee, DB McNamara, PJ Kadowitz,VA Fonseca. (2010) Effects of salsalate therapy on recovery from vascular injury in female Zucker fatty rats. Diabetes 59, 3240-46.
SN Murthy, RC St Hilaire, DB Casey, AM Badejo Jr., J McGee, DB McNamara, PJ Kadowitz and VA Fonseca. (2010) The synthetic analog of GLP-1, exenatide reduces intimal hyperplasia in insulin resistant rats. Diabetes Vasc. Dis. Res. 7, 138-144.
SN Murthy , BD Nossaman, and PJ Kadowitz. (2010) New approaches to the treatment of pulmonary hypertension: from bench to bedside. Cardiol. Rev. 18,76-84.
JT Liles,SR Baber ,W Deng ,JR Porter , C Corll,SN Murthy , SA Thomas, and PJ Kadowitz. (2007) Pressor responses to ephedrine are not impaired in dopamine b-hydroxylase knockout mice. Br. J. Pharmacol. 150, 29-36.
SN Murthy, VA Fonseca, and DB McNamara. (2005) Hyperhomocysteinemia Exacerbates the Development of Intimal Hyperplasia in Sprague Dawley rats; Alleviation by Rosiglitazone. Exp. Clin. Cardiol. 10, 154-159.
Murthy SN, Obregon DF, Chattergoon NN, Fonseca NA, Mondal D, Dunne BJ, Diez J, Jeter Jr JR, Kadowitz PJ, Agrawal KC, McNamara DB, and Fonseca VA. (2005) Rosiglitazone reduces serum homocysteine levels, smooth muscle proliferation and initmal hyperplasia in Sprague Dawley rats fed a high methionine diet. Metabolism 54, 645-652.
CV Desouza , SN Murthy, J Diez , BJ Dunne, AS Matta, VA Fonseca, DB McNamara. (2003) Differential effects of peroxisome proliferator activator receptor a and g ligands on intimal hyperplasia after balloon catheter induced vascular injury in Zucker rats. J. Cardiovasc. Pharmacol. Therapeut. 8, 297-306.
SS Anand,SN Murthy, VS Vaidya, MM Mumtaz , and HM Mehandale. (2003) Tissue repair plays pivotal Role in final outcome of Supra-Additive liver injury after Chloroform and Allyl alcohol Binary mixture. Food Chem. Toxicol. 41, 1123-1132.
SN Murthy and MK Janardanasarma. (1999) Identification of L-amino acid/L-lysine oxidase in mouse brain. Mol. Cell Biochem. 197, 13-23.
C Vijayasarathy , LK Siddiqui,SN Murthy and MS Bamji . (1987) Rise in plasma trimethyl lysine levels in humans after oral lysine load. Amer. J. Clin. Nutr . 46, 772-777.
Visit: http://scholar.google.com/citations?hl=en&user=VbH7RmwAAAAJ
RELATED INFO