RN to BSN Program
Bachelor of Science in Nursing Program for
Registered Nurses with an Associate Degree
Coming Fall 2023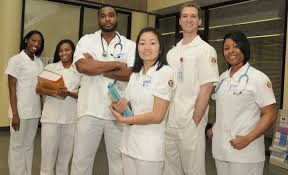 There is a great demand for registered nurses with the Bachelor of Science in Nursing (BSN) degree to fill critical leadership positions in healthcare throughout the state of Louisiana. Southern University School of Nursing has a proven track record of educating over 2,500 BSN graduates since its inception in 1985 and is the largest producer of African American nurses in the state of Louisiana.
The 100% online RN to BSN program is designed for nurses seeking to advance their career. With the flexibility of online coursework, practicing nurses can earn their BSN without disrupting their busy lives. If you graduated from a nationally accredited associate degree nursing program as a Registered Nurse (RN), you may be eligible to complete the 100% online RN to BSN program. Our instructors have real-world nursing experience and are experts in teaching and training nurses through online programs. They offer support and guidance to ensure the highest quality education.
Admission Criteria
Have earned an associate degree from an ACEN or CCNE accredited nursing program.
Hold permanent, active, and unencumbered registered nurse licensure.
Earned a "C" or better in all nursing and required prerequisite courses.
All prerequisite courses must be completed before starting the RN to BSN Program.
Plan of Study
RN to BSN Information Packet
APPLICATION
CLICK HERE to complete application.
The baccalaureate degree program in nursing at Southern University A&M College is accredited by the Commission on Collegiate Nursing Education, 655 K Street, NW, Suite 750, Washington, DC 20001, 202-887-6791.