College of Sciences and Engineering produces 3-D masks for healthcare professionals in response to COVID-19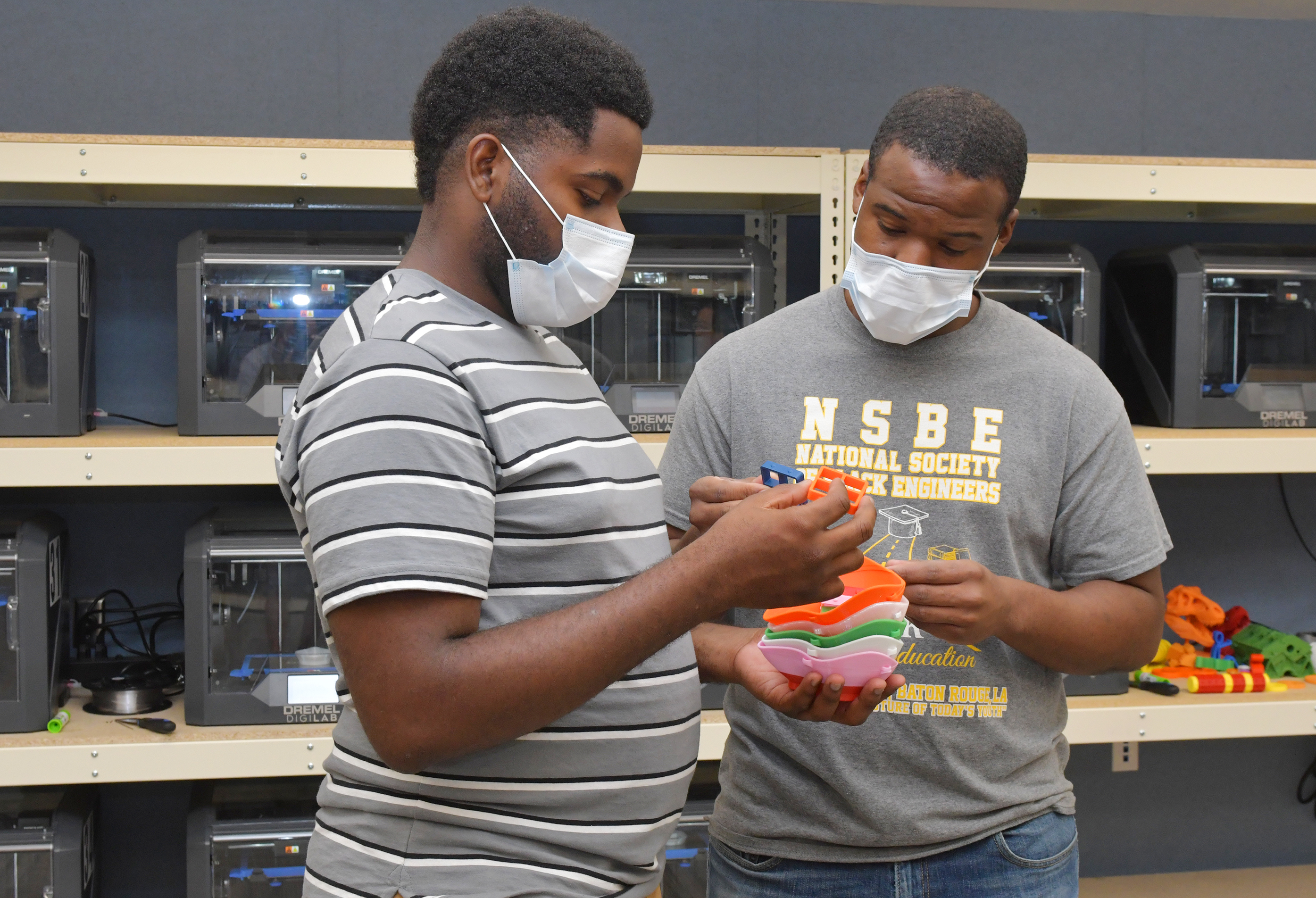 College of Sciences and Engineering produces 3-D masks for healthcare professionals in response to COVID-19
The Southern University College of Sciences and Engineering is venturing into familiar territory to help combat a still unfamiliar disease continuing to affect a global community. Staff and students are currently running a full lab of 3-D printers in their Entergy-sponsored lab to manufacture parts for reusable masks to be used by healthcare professionals treating patients during the COVID-19 pandemic.
"I saw an article on Facebook talking about people using 3-D printing for masks," said Jason Chang, director of information technology at the College. "I said, 'We (Southern) can really help our community.'"
According to Chang, the lab in the P.B.S. Pinchback building, houses the most 3-D printers — 40 desktop-sized for smaller jobs and one commercial-scale printer for intricate or larger jobs — in a central location at an educational institution in Louisiana. Presently, Chang and his team have produced nearly 2,000 masks.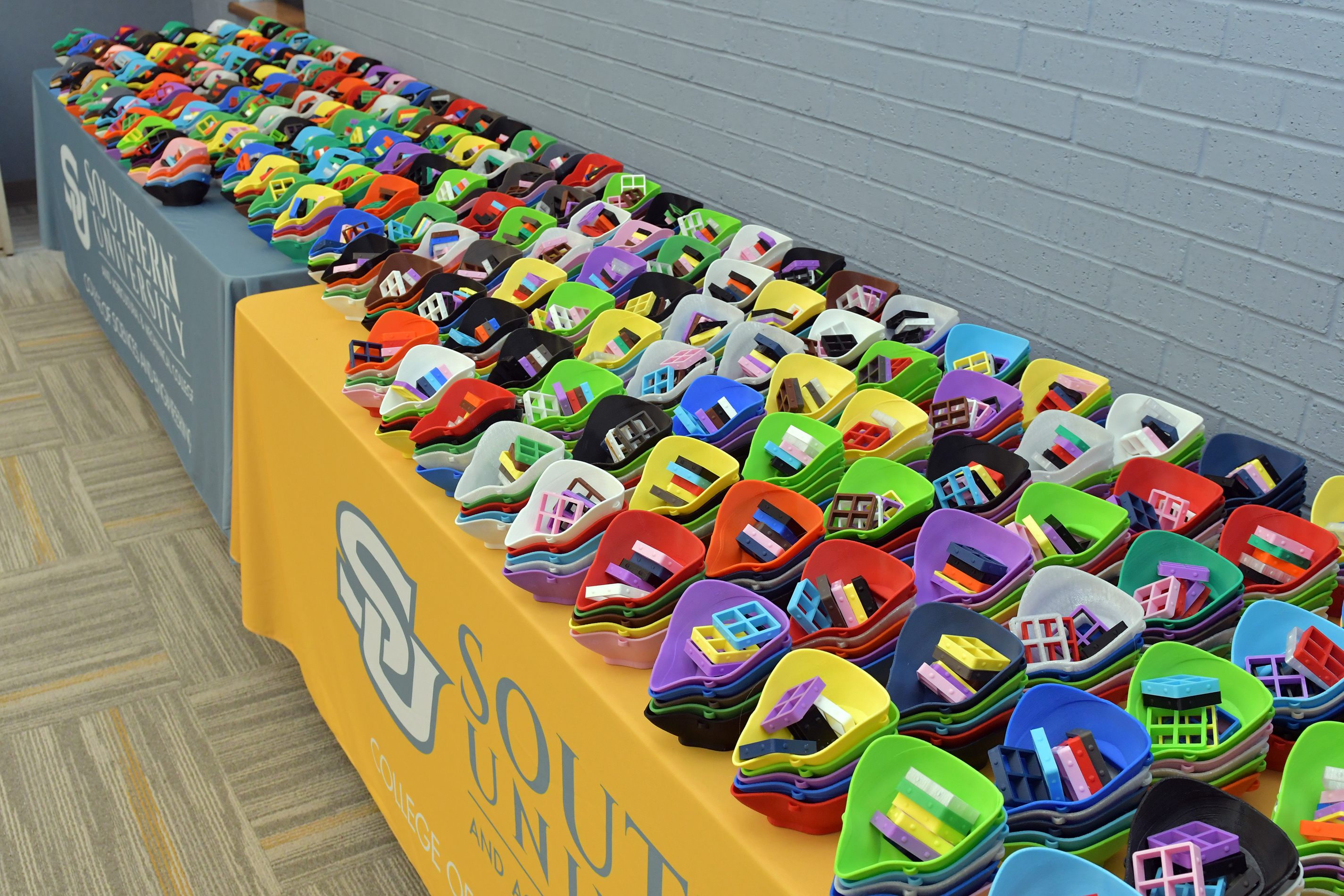 The 3-D printers generate accurate representations of parts designed in several industry-standard software programs such as SolidWorks and AutoCAD. The lab and all materials in it, including those to make the reusable masks, were made possible by a $2M grant Entergy presented to the university in 2018. The gift was matched by Gov. John Bel Edwards for a total of $4M to strengthen STEM disciplines and to upgrade facilities. Stratasys, a global 3-D printing and additive solutions company, also recently donated $7,000 worth of filament casters.
While states across the U.S. continue to reopen buildings, stores and more in phases, the work for hospitals, clinics and other healthcare facilities continues. With this work comes the need for protective supplies.
"The need for PPE (personal protective equipment) is paramount in the safety and protection of our healthcare community and we continue to have a shortage… which makes our frontline healthcare workers more vulnerable," said Sandra Brown, dean of the College of Nursing and Allied Health at Southern, and co-chair of the Louisiana COVID-19 Health Equity Task Force.
"The College of Sciences and Engineering's response to this pandemic is an example of how combining science with humanity can yield a product that will impact the lives of so many," she said.
The masks, which are worn by loops that fit over the ears, are made of plastic with a place for a special filter. For comfort, the inside of the mask has a cushion for the wearer's face. Since the masks are washable and easy to dry, healthcare professionals do not have to dispose of multiple masks when they come into contact with patients who have COVID-19, and are trying to protect other patients and themselves from infection.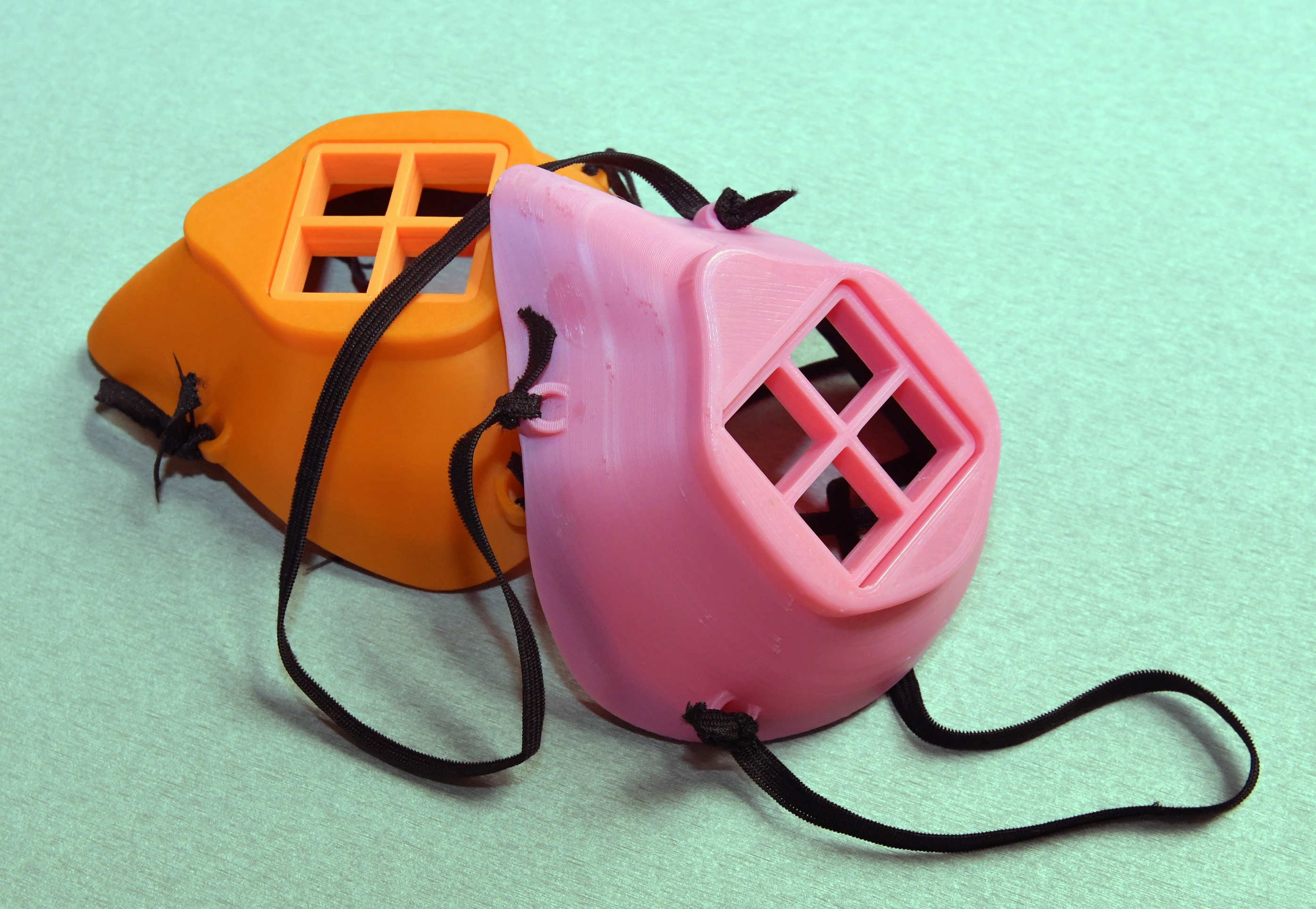 Engineering faculty, staff and students do not presently assemble the masks in the lab at Southern, but rather manufacture the parts. The assembly and quality control have been occuring in Alexandria by a group of volunteers from St. Frances Cabrini School and Holy Savior Menard Central High School led by Liz Hines, and Dr. Marvin Mata, pediatric ICU medical director at Rapides Women's and Children's Hospital.
"Right now, we are focusing on the hospitals in our city and when we can, we would like to help the other cities," Chang said.
This is not the first time that College has been involved in responding to community needs:
"As part of the mission of the university, the College of Sciences and Engineering is an engaged member of the community," said Patrick Carriere, dean. "Engagement in public and community service is common across the faculty. Our faculty are continuously lending their expertise to address national and state priorities, serving on local and state boards, and participating in or leading community initiatives."
The College hosts several summer institutes for the community, which includes the Engineering Summer Institute, Summer Transportation Institute, Computer Science Robotics Camp, and STEM Summer Camp. Faculty, staff, and students often participate in Habitat for Humanity community projects.
"Our new 3-D printing capacity has helped us respond directly to community needs and is a real example to our students and the community of engineering for human need — or engineering with the world or community in mind," Carriere said.
Two students working on the project with Chang — Christopher Hall, a Baton Rouge junior majoring in mechanical engineering, and Dantrel Bonner, a senior also majoring in mechanical engineering — .echo Carriere's sentiments.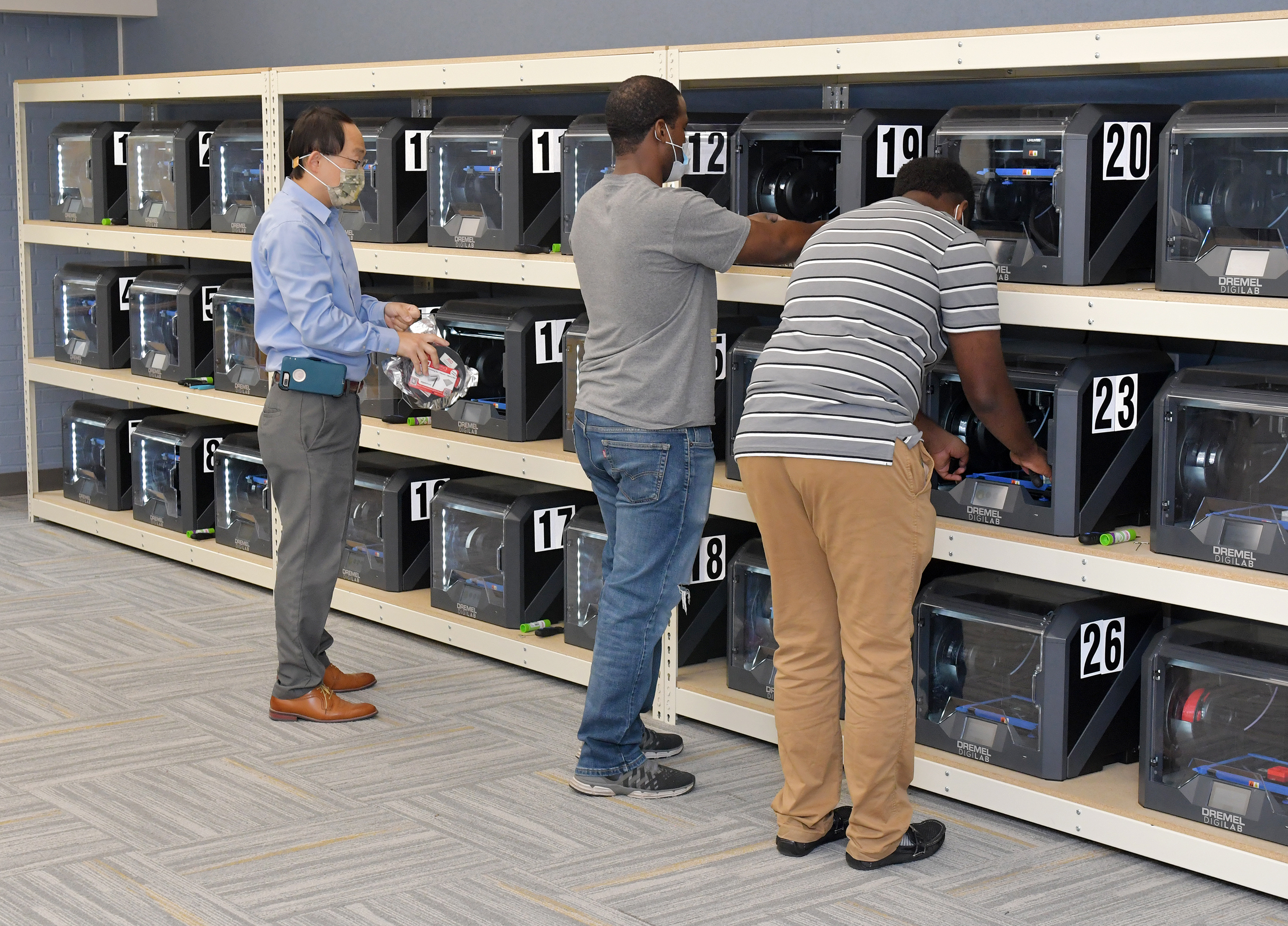 "Southern University provides that type of knowledge to where you can create such a thing (masks) to supply people in need," said Bonner, a Mobile, Alabama native who grew up in Baton Rouge. "As engineers, we have a civic duty to make sure our community is positively impacted and that we provide for that community. At this institution, you definitely get that pride instilled in you to want to give back."